Staying ahead of the competition is crucial for businesses to thrive in today's rapidly evolving digital marketing landscape. The advancement of Artificial Intelligence (AI) has revolutionized the way companies handle their operations, such as overseeing social media and developing content.AI integrations for social media have proven to be a game-changer for marketers worldwide.
AI has become an indispensable ally, empowering community managers, designers, and social media marketers to optimize strategies and get unparalleled results. AI social media tools can be the key to unlocking new levels of growth and profitability whether you are a small startup or a big corp.
What is an AI social media tool?
An AI social media tool includes AI algorithms to streamline and optimize various aspects of social media marketing. The tools enhance a marketer's efficiency by automating repetitive tasks, analyzing vast amounts of data, and providing valuable insights to make data-driven decisions.
These are some of the main features you can find in an AI social media tool:
Scheduling at the Most Optimal Times
Sentiment Analysis behind Mentions, Comments, and Posts about your Brand
AI Social Listening to Monitor Online Conversations, Track Brand Mentions in Real-Time
Automate Social Media Ads
Chatbots and Personalized Customer Support for Instant Responses
Social Media Analytics for Engagement, Growth, and Rates
These are just a few examples of how AI social media tools can streamline your marketing efforts and amplify your brand's impact.
Why should businesses use AI for social media marketing?
Using AI social media tools in marketing strategies has a lot of benefits and advantages to look into! AI-driven tools can be indispensable for marketers.
Here are some reasons why incorporating AI social media tools is a strategic move:
Time and Resource Savings: AI social media tools automate repetitive tasks like content scheduling, monitoring, and responding to messages. You can skip the need for all the tedious manual work and focus on strategic planning and creative efforts.
Enhanced Efficiency: Leaving behind manual work increases efficiency, translating to a higher return on investment (ROI).
Real-time Data Analysis: AI social media tools can process vast amounts of data from multiple platforms in real-time, so you make data-driven decisions swiftly.
Improved Content Strategy: AI tools can recommend content ideas based on audience interests, trending topics, and historical performance. Create content in a second!
Scalability: AI-powered tools can handle large-scale data analysis and tasks, making them suitable for businesses of all sizes, from startups to enterprises.
Incorporating AI social media tools into marketing strategies empowers businesses to be more agile, data-driven, and customer-centric.
Here is a list of the 5 Best AI Tools for Social Media to add to your marketing strategy.
These tools cater to different needs so that you have a complete set of powerful integrations to scale your business:
Devi is an impressive AI social media marketing assistant that can help you with four relevant tasks for your online or offline business.
With Devi, you can start by monitoring social media for mentions with its AI social listening feature, including Facebook groups (private or public), Twitter X, LinkedIn, and Reddit. The best part is that Devi helps turn those mentions into leads.
Devi selects high-intent leads that are already looking for your business offer. For example, if somebody mentions that they need a new dog food brand, and you sell organic dog food, Devi catches the lead for you to close the deal.
The power of Devi goes further, as with its powerful ChatGPT integration, it assists in writing helpful or promotional responses to the leads. This way, you create a brand presence or share information about your business with people interested.
Its AI content generator can create a week of social media content in seconds. The posts include Did You Know, Month Holiday, Promotional, Facts, and more to capture your audience.
The best part is that you can forget Canva because Devi AI also created the visual assets. No need to move to a social media scheduler because Devi also covers this.
🏆 Best for All Small or Big Social Media Teams Looking to Reduce Time and Resource Waste
Free Trial: 14-day free trial for all new users
GrammarlyGO is a new integration in the well-known Grammarly that helps you write in digital spaces, including social media posts.
It assists you in keeping your writing in context and preferred style.
GrammarlyGO polishes your writing and gives you new versions to consider in different tones or purposes.
Get a brainstorming buddy for your written work! It outlines and shares new perspectives to create.
You can summarize and respond quickly to them using context-specific prompts.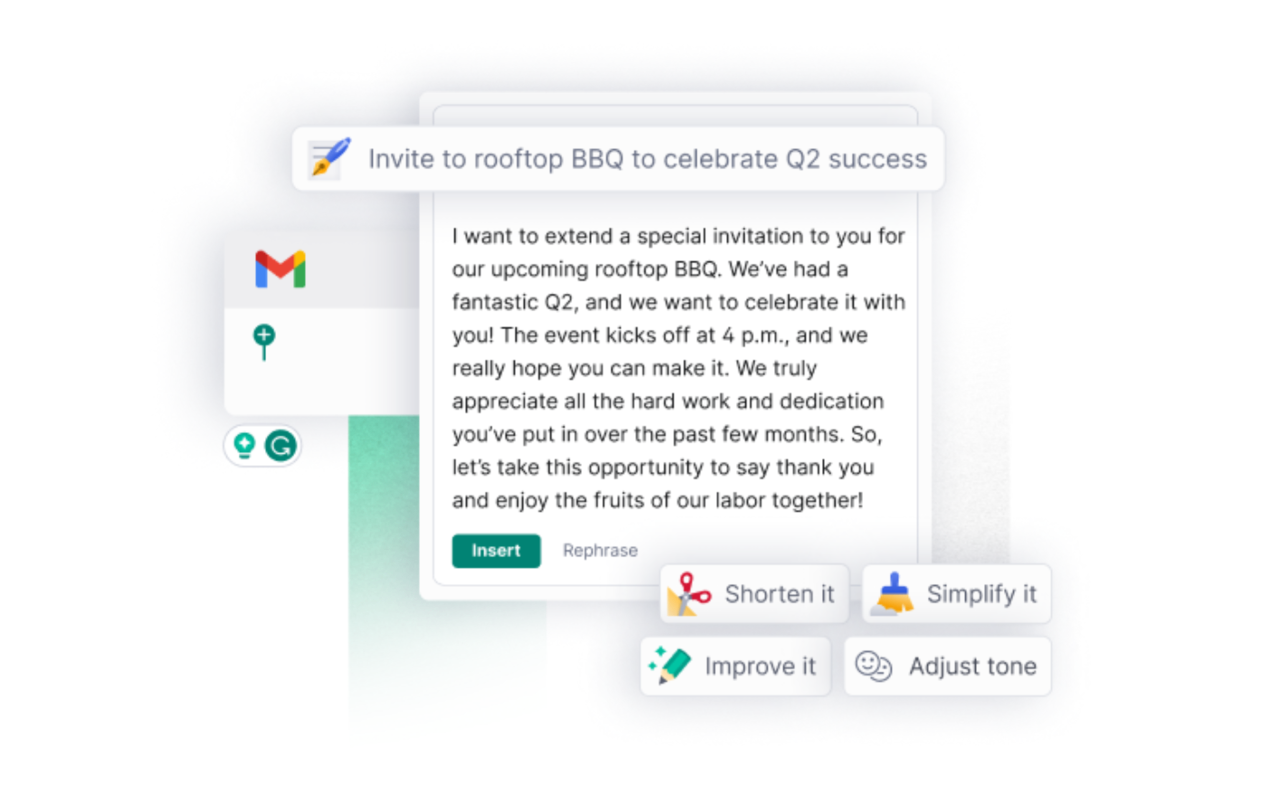 📝 Best for Social Media Writers that Want to Optimize their Content Creation Time
Free Trial: 7-day free trial for all new users
Synthesia is an AI video creation platform you can integrate into your social media strategy. It can save up to 80% of your time and budget in video creation and prevent you from tedious filming tasks.
Create videos in 120+ languages, accents, and voice tones.
Choose from 150+ ethnically diverse stock AI Avatars.
Type your text and turn it into professional voiceovers in minutes.
You can clone your voice and pair it with a custom AI Avatar of yourself.
Record short videos of your screen with our built-in screen recorded.
Animate video elements by tying them to your script with a marker.


📹 Best for Solopreneurs with No Time for Video Content Creation
Free Trial: You can create a free AI video with a watermark
HeyDay's Conversational AI assistant can help your e-commerce business customers find their way and turn real-time conversations into revenue.
Help customers find their way to the right product, color, and size with AI-powered product search.
Your chatbot and sales team can search and recommend products directly inside the chat.
Add a virtual rep to your team to capture and engage leads 24-7 and pass them off to your associates.
You can integrate it into Messenger (Facebook), Instagram, and WhatsApp to leverage your social media e-commer game.

🛍️ Best for E-commerce Businesses that Want to Improve Their Customer Service on Social Media
Free Trial: You can create a free AI video with a watermark
InfluencerMarketing.ai is an influencer marketing technology partner that helps your agency or brand with data-driven analytics and metrics that set you apart.
Find the perfect influencers, manage existing systems, and more.
Create a simple and transparent ecosystem between you, the brands, and the influencers.
Access a network of UGC creators, enabling you to identify and collaborate with the most suitable influencers for your brand.
Gain visibility and control over your content's performance by tracking engagement metrics and reviewing new content.
🤳🏼 Best for Businesses that Want to Integrate Influencer Marketing into their Game
Free Trial: You can create a free AI video with a watermark
Embracing AI social media tools is no longer an option; it is imperative for businesses that seek to thrive and succeed in the digital age. Marketers can optimize their strategies, engage with their audience on a deeper level, and achieve remarkable results like never before.
Embark on this transformative journey with AI social media tools like Devi AI – a journey that promises to revolutionize your social media marketing and lead your business to new heights of success.