Are you a freelancer in today's digital world? There is no doubt you need a portfolio website to showcase your expertise. Whether you are an artist, a photographer, a freelancer, or a professional looking to showcase your work, your online presence matters. Your portfolio website is your all-in-one virtual business card, creative canvas, and professional identity.
Even though it is a need and not a luxury, finding a Website or Portfolio Builder that includes 100 years of FREE hosting, SEO, image, and video stock is complicated. Devi AI Landing Page and AI Website Builder is here to solve this problem and help you create a stunning portfolio website for free, without extensive technical skills or thousands of dollars.
This guide explores the what, why, and how to build a portfolio website for free with AI. Welcome to a new era of online presence for freelancers🤩!
Why is Devi AI Landing Page and AI Website Builder innovating the freelancer industry?
Our goal here is to simplify the website creation process, making it accessible to anyone who wants to step into the online spotlight. Therefore, Devi AI gives all users an AI Landing Page or AI Website free for 100 years.
Continue reading to learn more, or claim your free portfolio website created in 10 seconds with 100 free years of hosting here.
Why build a portfolio website
What is a portfolio website?
A portfolio website is a virtual calling card and a powerful personal and professional growth tool. It gives your potential clients more information about yourself, your expertise, examples of your work, prices, and more. The significance of having a portfolio website is evident in our increasingly digital world. It helps you establish an online presence and a creative talent showcase to close more deals.
Who might need a portfolio website?
A portfolio website is the modern-day equivalent of a storefront or a resume, used by professionals in any field. From graphic design to marketing, and for creatives, such as artists, photographers, writers, or musicians everyone needs a portfolio website.
Why do I need to create a portfolio website?
There are four main reasons why a professional needs a portfolio website: credibility, visibility, narrative control, and accessibility.
Credibility and Professionalism: A well-designed, personalized website instantly conveys professionalism and competence. It shows potential clients, employers, or collaborators you take your business and skills seriously.
Visibility: Remember that in today's world, the competence for online, remote, and well-paid jobs is higher than ever. A portfolio website is your chance to stand out. It enables you to define your unique brand and make your work easily discoverable by a global audience.
Control Over Your Narrative: A portfolio website gives you complete control over how you present your work. You can curate your content, define your brand, and guide the viewer's experience.
Accessibility 24/7: Your website is always open for business. It allows people to explore your work, learn about your services, or contact you 24/7, even when you are not actively promoting yourself.
Build your Portfolio Website with AI: Step-by-Step Guide
Step 1
Go to https://website.ddevi.com and click on "Build a free website."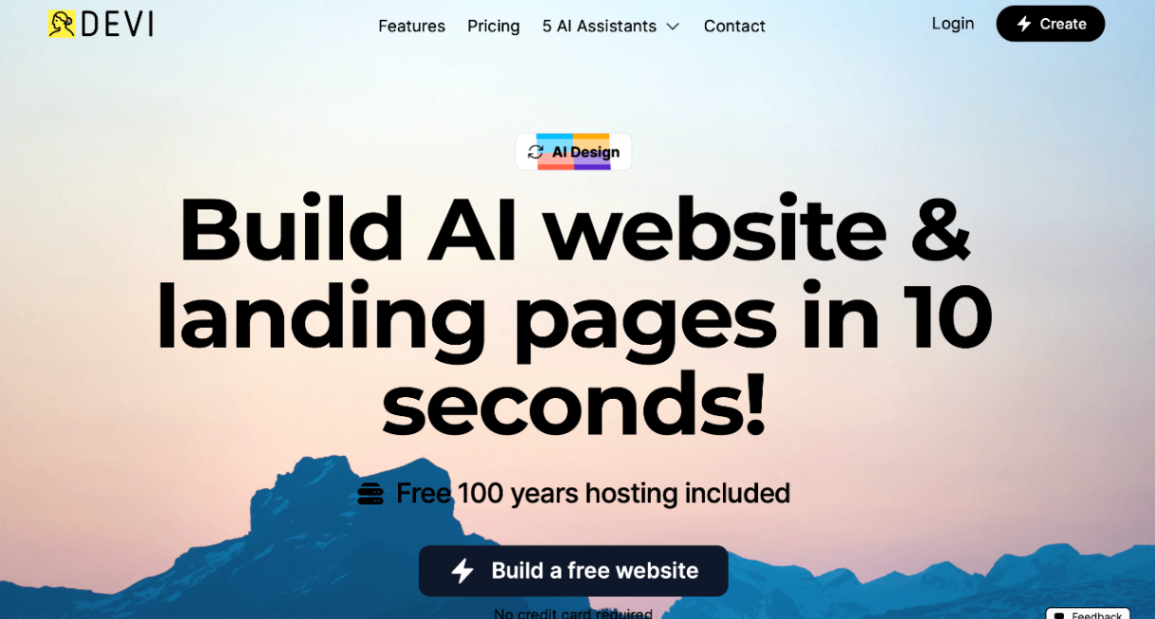 Step 2
Select "Freelancer Bio," add your name and your freelancer activity, and click "Let's go!" See an example below:
Optional Step
Personalize your Portfolio Website build in 10 seconds with AI: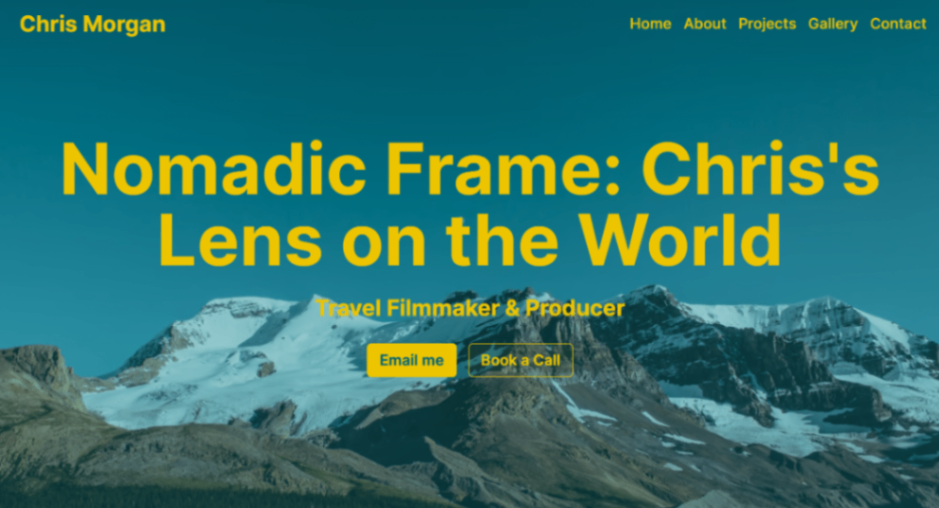 Step 3
Publish your portfolio website and start sharing with your network to generate leads.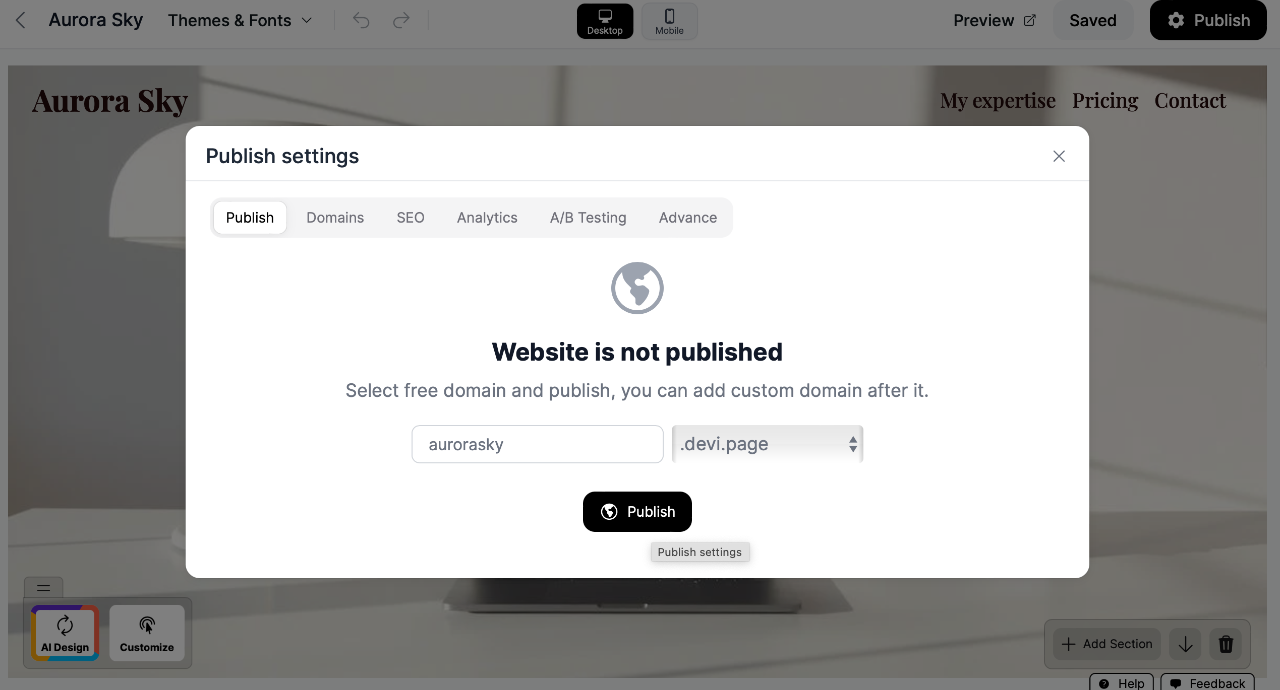 Et voilá! Devi AI Website Builder is an extraordinary tool that builds your portfolio website in seconds!
Start playing with our free AI Website Builder here. Remember that your first published website is free for 100 years with hosting included!
Advantages of Building a Portfolio Website with AI
Showcasing your work online through a portfolio website offers several advantages, and an AI-powered portfolio website will also optimize your time and money.
#1 Save time
An AI Portfolio Website Builder is perfect if you are a busy freelancer without time to spare for website creation or website development skills. You do not have to spend thousands of hours on websites or portfolio builders as AI Portfolio Website Creators like Devi AI can do it for you in 10 seconds.
Start your portfolio for free here.
#2 Save money
Hosting a website or paying a Portfolio Website builder subscription can affect your business and services budget. AI Website builders like Devi AI offer 100 years of free hosting for your first website on the platform. You will save thousands of dollars.
#3 Reach a Global Audience
People worldwide will see your website and work, expanding your potential reach beyond local networks and increasing your lead acquisition and freelance revenue.
#4 Get a sleek and professional design in 10 seconds
Designing is an issue when getting a portfolio website if you lack artistic skills. AI Website builders like Devi AI give you website design in seconds you can later personalize. AI-powered tools suggest design layouts, color schemes, and typography that best suit your brand or style. There is no need for extensive design knowledge to make your website aesthetically pleasing.
First impressions are often formed online in today's world, so make sure it is a breath-taking one. Devi AI Website Builder suggests video websites to leave a mark on your potential clients. See an example here.
#5 Show several work examples
Unlike a physical portfolio, a website can showcase media, from images and videos to interactive content and text. It provides a versatile platform to express your creativity.
#6 Continuous growth for your brand
Your portfolio website grows with you, so you can update it to reflect your latest work, accomplishments, and skills, ensuring that it always represents your current best.
#7 Website analytics with AI Website Builder
Get AI Website Insights with builders like Devi AI Website Builder. You do not need to add Google Analytics, though you can if you require it, and you can see who visited your site, from where, how long they stayed, etc. Engage with your audience, gather feedback, and build a community around your work.
#8 Generate portfolio website copy in seconds
AI can help generate content, from text and descriptions to images and graphics. AI Website Builders like Devi AI are particularly useful for individuals struggling with writer's block or design limitations. You can get a first or final (if you like it) draft of your portfolio website copy.
Get your free 100-year portfolio website here.
#9 Get a responsive website design
Your portfolio must be optimized for mobile, tablet, etc., but do not worry because Devi AI ensures your website is responsive across various devices and screen sizes. It automates your site's layout and content, eliminating the need for manual adjustments.
By simplifying the website-building process through automation and intelligent design suggestions, AI makes it possible for individuals with low technical expertise to create professional-looking websites. Concentrate on the content and presentation for your clients, or move to work to start generating revenue instead of building your portfolio.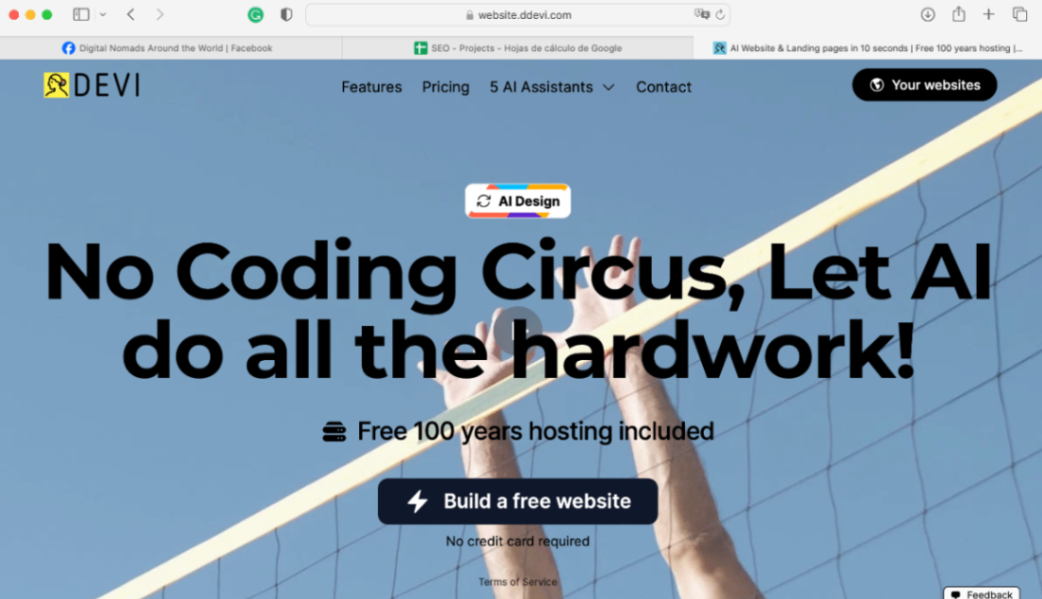 As you wrap up your journey of creating your portfolio website, remember that AI is not just a tool but a creative partner. It simplifies the technical aspects, allowing you to focus on what truly matters – your content, your identity, and your unique contribution to the digital world. AI helps amplify your online presence as you embark on the next chapter of your professional or creative journey.
Your portfolio website is not just a showcase; it is your digital canvas where creativity meets innovation. Let Devi AI Website Builder and AI Landing Page build it for you- FREE for 100 years!