Small businesses need websites to promote their services and products today. As most marketing is digital, having a page to refer your customers to can be a deal-maker as it increases trust. Nonetheless, hosting can be one of the highest business expenses when browsing for digital solutions.
With Devi AI, small businesses can enjoy the benefits of having an efficient and modern website without worrying about high expenses. The AI-powered website builder comes with one free landing page with a 100-year hosting plan so that businesses can establish an online presence without problems. Learn more here.
In this blog entry, you will learn how to get a free hosting AI Website for 100 years. Learn more about the cost-saving benefits and creative possibilities that artificial intelligence offers.
Hosting Services
What is a hosting service?
Hosting services offer online businesses a reliable and secure way to store and access their data, applications, and websites over the Internet. Organizations can use several hosting services online, such as web hosting and other hosting solutions provided by third-party service providers like HostGator, GoDaddy, Bluehost, and Namecheap.
What are the advantages of free website hosting services?
Free hosting services offer several appealing advantages to those seeking to establish an online presence without significant financial investment.
Here are the reasons why free website hosting services are splendid for small businesses:
#1 Reduced Costs: The most obvious advantage of free hosting is the elimination of hosting expenses. It is an ideal solution for startups or freelancers with budget constraints, allowing them to establish an online presence without financial burdens.
#2 Accessibility: Free hosting services provide accessibility to individuals who may not have the technical expertise or financial resources for paid hosting.
#3 Ease of Use: Many free hosting platforms offer user-friendly interfaces and website builders, simplifying website creation.
For instance, with Devi AI Website Builder, you do not need to be a web development expert to get started. AI has your back and makes beautiful pages for you. Start here.
#4 Experimentation: Free hosting is an excellent choice for those who want to experiment with website creation, whether a personal blog, a portfolio, or a small business site. It allows you to test the waters before committing to paid hosting.
You can get free hosting for a 100-year landing page here.
How to get a free hosting AI website for 100 years
Step 1
Go to https://website.ddevi.com and click on "Build a free website."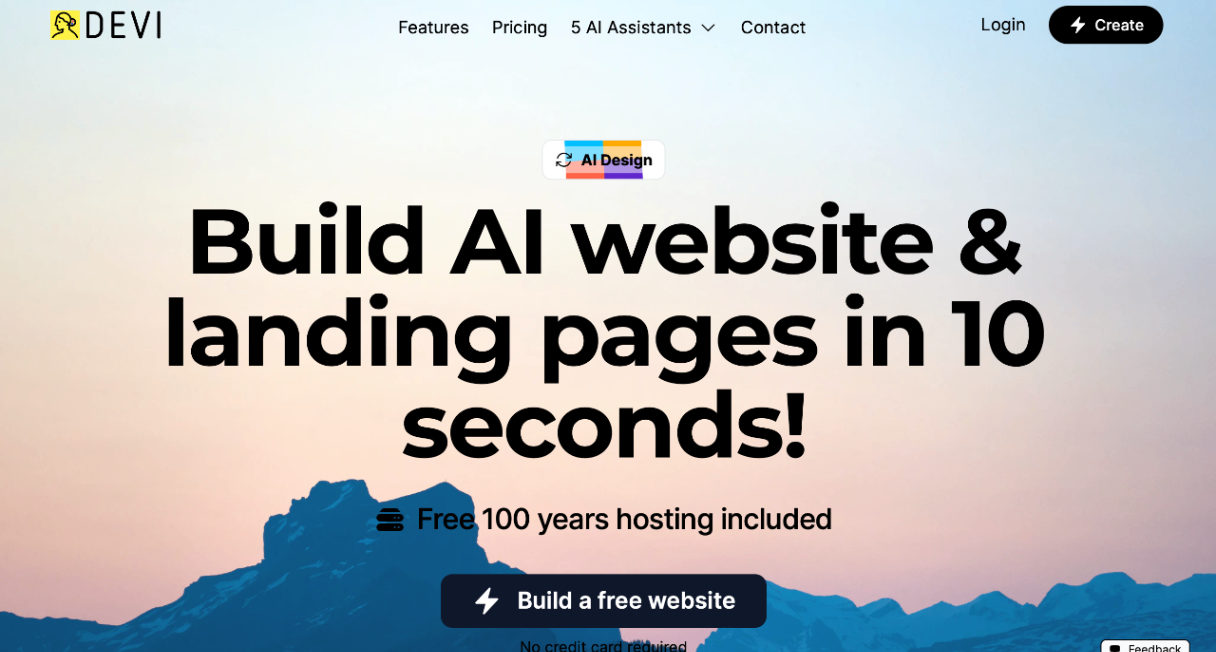 Step 2
Select the type of AI business website you would like to create, add your name and your description, and click "Let's go!" See an example below:
Optional Step
Personalize your AI Website: Built in 10 seconds with AI
Step 3
Publish your AI website and start sharing it with your network to generate leads.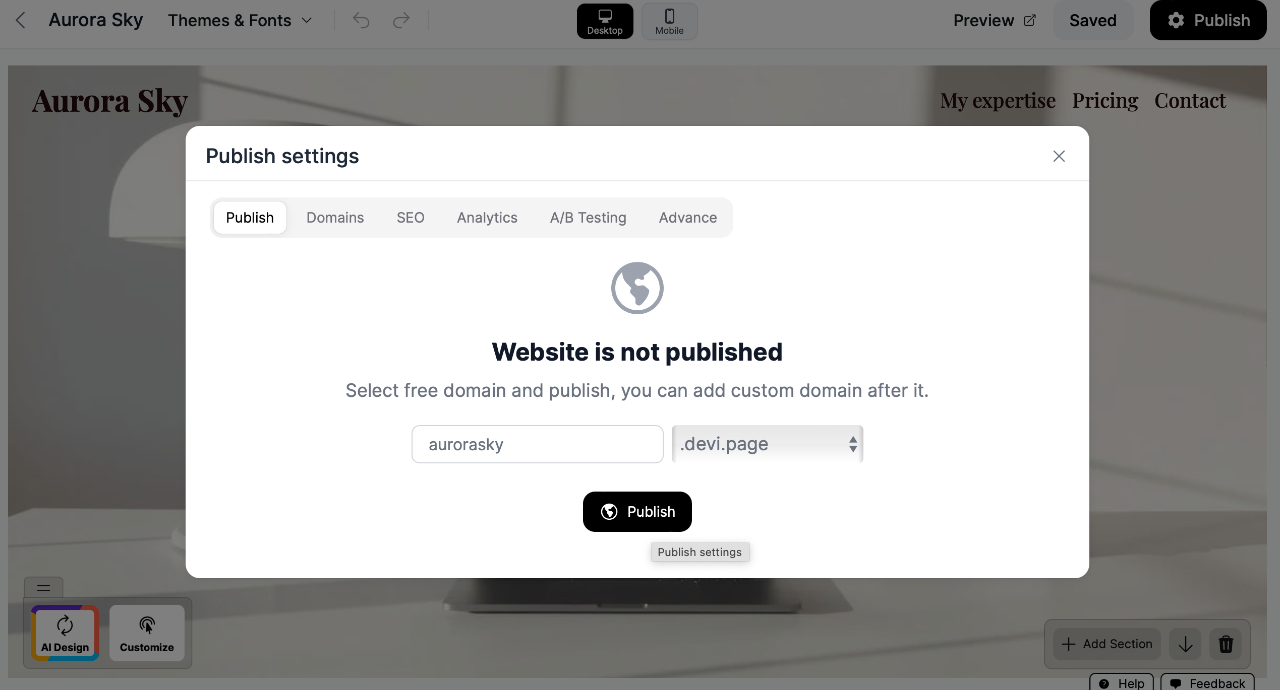 Et voilá! Devi AI Website Builder is an extraordinary tool that builds your portfolio website in seconds! Start playing with our free AI Website Builder here. Remember that your first published website is free for 100 years with hosting included!
After you get your first free landing page, you can get three more pages for as little as $14 monthly, including:
Three website/landing pages
AI design suggestions
A/B website testing
Newsletter form email capture
Unlimited Hosting
Custom domain
Free videos and images
Email support
AI Website Creation in 2024
AI is rapidly transforming the landscape of website creation, making the process more accessible, efficient, and dynamic. AI-driven solutions streamline and automate various aspects of website building, ensuring a more efficient and user-friendly experience.
Why use AI Website Builders or AI Landing Page Builders?
Using an AI Website Builder can save you resources that you can utilize to grow your business in other ways. Read six benefits of using AI for website and landing page creation here:
A Smart Design and Personalization: AI can suggest and generate personalized designs. Your website will be aesthetically pleasing and tailored to your brand or identity.
Content Generation: AI tools can assist in generating website content, including text, images, and even graphics. It can be helpful for individuals who struggle with content creation or design limitations.
Optimization for Performance: AI optimizes website performance by ensuring fast loading times, responsiveness across different devices, and efficient use of server resources. This results in a smooth user experience and improved search engine rankings.
User Experience Enhancement: AI-driven website builders often incorporate features like chatbots, personalized content recommendations, and interactive elements that enhance user engagement and satisfaction.
Analytics and Continuous Improvement: AI can collect and analyze user data, helping you make data-driven decisions to improve your website's performance, content, and user experience over time.
Content Management and Security: AI tools assist in content management and security by automating updates and ensuring the reliability and safety of your website. Woo!
How to Save Money on Website Creation with AI
Creating a website on a budget is achievable and necessary for small businesses with a tight budget. Here is how you can save money on website creation:
Free Hosting: Free Hosting Services are one of the most effective ways to save money on website creation. These services eliminate the pay for hosting, allowing you to focus your budget on other aspects of your website, such as design and content. You can try Devi AI options for a free AI website or AI landing page with 100 years of free hosting here.
Free Design Resources: There are numerous free design resources available, including templates, themes, and images, which can help you achieve a professional look without the expense of hiring a designer or purchasing premium assets. Devi AI Website Builder eliminates the need for website design and copy because AI generates it.
Free SEO Tools: Optimize your website for search engines using free SEO tools and plugins. These tools provide insights, recommendations, and strategies to improve your site's visibility without expensive SEO services.
TIP: Devi AI Website Builder includes SEO optimization.
By embracing these cost-saving strategies, you can create a professional and functional website without breaking the bank. The combination of free hosting and AI-driven website building will empower you to build, maintain, and enjoy your online presence for an extended duration without the heavy financial commitment.
Read more AI Landing Pages, AI Leads, and AI Social Media Monitoring tips and strategies in our blog.