Long gone are the days when Artificial Intelligence used to be a matter of science fiction. It is now an integral part of our daily lives, particularly our workplaces. We now have a game-changer across sectors, optimizing processes, driving efficiency, and enhancing user experiences.
This article develops the intriguing intersection of AI for website and landing page creation, displaying the Top 5 AI Website and Landing Page Creators that exemplify the potential of AI to optimize the process of designing and building websites. Before listing the top-notch tools, let us examine the broader impact of AI on the website industry.
The importance of AI in Website Creation
Website creation is one of the most essential processes for online businesses. Traditional methods of designing and building websites demand intricate coding skills, design expertise, and a substantial investment of time and resources. Those are old news. With the advent of AI tools, the landscape of website creation has experienced a fantastic changeover.
AI's power to analyze user preferences, suggest design elements, and automate various aspects of website development has facilitated the process. This shift empowers individuals and businesses alike to create professional and visually appealing websites without requiring an extensive technical background or taking whole months. By simplifying intricate coding procedures and offering intuitive design recommendations, AI eradicates obstacles that previously limited access to digital representation.
AI's role in simplifying website and landing page creation surpasses mere comfort; it is a transformative force that empowers creativity and innovation, promoting a dynamic online presence for individuals and businesses of all scales.
What is an AI Website and Landing Page Creator?
AI Website and Landing Page Creators have redefined the paradigm of requiring a considerable investment of time and resources for site building. These innovative platforms use the technology of AI algorithms to simplify the process, surpassing the need for extensive technical know-how. An AI Website Creator uses AI computational capabilities to automate various designs, layouts, content suggestions, and even optimization for online pages. Web design automation with AI saves time and reduces complexity.
This technology of Artificial Intelligence enables individuals and businesses to realize their online presence swiftly and seamlessly. Website creation is no longer an exclusive domain; it is an accessible realm open to anyone with a vision and a desire to connect with the digital world.
Key Factors in AI Website and Landing Page Creators
There are three essential factors in AI Website and Landing Page Creators to consider when looking for one that can satisfy your business needs.
The first crucial aspect of AI Website Creators is their ability to generate design suggestions. By comprehending the underlying principles of aesthetics, these algorithms propose layout options, color palettes, typography choices, and imagery that align with contemporary design sensibilities. It ensures that the resulting websites are visually engaging and appealing. Test the charming ability of Devi AI Website and Landing Page Creator here.
AI plays a role in content creation. These platforms leverage Natural Language Processing to generate textual content that resonates with the website's theme and purpose. They can craft effective headlines or draft product descriptions.
The integration of AI develops beyond the design phase. It contains performance optimization as well. These platforms employ AI to analyze website behavior, identify areas of improvement, and enhance factors such as loading speed, mobile responsiveness, and overall user satisfaction.
It is crucial how AI's integration transforms website creation from an intensive effort into a harmonious collaboration between human creativity and machine intelligence. This synergy empowers individuals and businesses to realize their digital aspirations with efficiency.
Advantages of using AI Website and AI Landing Page Creators
The AI incorporation into website creation introduces advantages that redefine how we build and present websites. These advantages not only expedite the design process but also enhance the quality of the end product, fostering an environment of innovation and creativity.
Here are nine advantages of using AI Website and Landing Page Creation tools:
1. Time Efficiency: AI-powered tools accelerate the design process by automating many tasks that would otherwise require significant time and effort. From generating design suggestions to optimizing layout elements, designers can focus on higher-level creative decisions.
2. User-Friendly Interface: AI website creators often come with user-friendly interfaces that cater to individuals with different technical backgrounds. This accessibility means designers and non-designers can create professional-looking websites without an abrupt learning turn.
3. Personalized Design Recommendations: AI analyzes user and design trends to provide personalized recommendations. It ensures the resulting websites resonate with the target audience's expectations and preferences.
4. Design Consistency: AI Website Creation tools maintain a consistent design language throughout the website. The cohesiveness enhances user experience and brand identity, contributing to a professional and polished online presence.
5. Multiple Device Dimensions: You must not worry about phone, tablet, or monitor sizes. AI considers various screen dimensions and devices, ensuring that websites created using these tools are responsive and optimized for mobile and tablet browsing.
6. Continuous Learning and Improvement: AI algos learn from user interactions and feedback to constantly refine their design suggestions and performance optimization. There is no need to update your site manually.
7. Effortless Content Generation: AI can assist in generating textual content, including headlines and product descriptions. It reduces the load on copywriters and guarantees that websites have engaging and relevant content.
8. Data-Driven Insights: AI Website Content tools can analyze website metrics and user behavior, providing insights into how visitors interact with the site.
9. Cost-Effectiveness: Utilizing AI-powered tools eliminates the need for hiring specialized designers or developers, reducing costs associated with creating and maintaining a website.
Incorporating AI into website design represents a paradigm change that embraces efficiency, creativity, and user-centricity. The advantages permit individuals and businesses to compose visually stunning and functionally optimized websites for their audience. It is time to discover the future of website design with AI-powered website creation.
How to choose the best AI Website and AI Landing Page Creator
It is crucial to establish a set of criteria for evaluation to determine the effectiveness and practicality of AI website creation. These criteria provide a structured framework to assess each platform's capabilities, allowing individuals and businesses to make informed decisions based on their unique needs.
Here are the elemental criteria used to assess AI website creators:
1. Ease of Use: Always assess how user-friendly the platform is so you do not spend unnecessary time figuring out the functionalities. How intuitive is the interface? Can you, regardless of your technical expertise, navigate the platform comfortably?
2. Design Flexibility: The level of design flexibility is essential. Can you easily customize layouts, color schemes, typography, and other design elements to align with your vision?
3. SEO Features: A crucial aspect of any website is its search engine visibility. Does the platform offer SEO optimization tools and features that help improve a website's ranking on search engines?
4. Responsive Design: In the mobile-first era, responsive design is non-negotiable. Does the platform ensure that websites are for various devices and screen sizes?
5. Performance Optimization: A fast and responsive website is crucial for user satisfaction. Does the tool enhance loading times and overall site responsiveness?
6. Data Privacy and Security: How does the platform handle user data? Are there robust security measures in place to protect sensitive information?
7. Support and Documentation: How well does the AI tool assist users in overcoming challenges or learning to utilize advanced features?
8. Cost and Value: Lastly, the cost-effectiveness of the platform is a significant factor. Does the platform's pricing align with the features and benefits it offers? Is the value provided worth the investment?
You can make well-informed decisions that align with your goals and requirements if you evaluate these factors. You can find an AI Website Creator that balances ease of use, design flexibility, functionality, and value for money.
Top 5 AI Website and Landing Page Creators
We present the elite selection of the Top 5 AI Website and Landing Page Creators that can become your partner in composing digital masterworks. All these platforms offer remarkable capabilities, so let us explore the outstanding features of each, with Devi AI standing as a model of AI tools and AI website creation.
Here are the Top five AI Website and Landing Page Creators:
At the front of AI website creators is Devi AI, an exceptional tool designed to elevate the revenue of your online business. No need for coding, no need for drag and drop. 😏
Devi's AI Website and Landing Page Creator is efficient and will save you money on development and time on design. It creates AI-powered pages that drastically enhance your lead conversions without investing unnecessarily. Devi helps you customize your website effortlessly with AI's intuitive assistance.
The best part is that with Devi AI, you only need to add your business name and a small description to have the first draft of your page. Devi AI also helps you take the digital marketing strategy of your business to another level. You can complement your landing pages with the AI Social Media Manager and AI Social Listening tools offered by Devi AI.
Devi AI is an end-to-end platform for online business owners, freelancers, and solopreneurs. You will be ready for EVERYTHING.
What are the features of Devi AI Website and Landing Page Creator?
Discover the remarkable functionalities that make Devi AI Website and Landing Pages Creator stand out as a state-of-the-art platform for crafting unique landing pages. Here are the features that set Devi AI apart:
Personalized Domain: Establish a distinct online identity with a domain that has your brand's uniqueness.
Easy User Interface: Navigate a user-friendly interface to effortlessly edit your AI-generated website, even if you lack technical expertise. No code, no drag and drop.
Website Sections: Customize your website's sections using intuitive sections. Tailor your content design according to your vision.
Diverse Themes: Choose from several beautiful themes, each catering to different aesthetics and needs.
A/B Testing: Enable two different versions of your page to make information decisions on what generates conversions for your business to increase your income!
SEO Optimization: Enhance your website's discoverability with built-in SEO optimization for meta descriptions and headlines, improving your search engine visibility.
Integration with Google Analytics: Detailed analytics can provide insights into your website's performance and user engagement and enable you to refine your strategies.
Optimized Performance: Ensure your visitors have an outstanding experience by optimizing your site's performance for fast loading times. It will boost visitor satisfaction and keep them coming back!
Responsive Design: Ensure your website looks stunning across various devices by optimizing its design for phone, tablet, and monitor dimensions.
AI-Generated Content: Benefit from AI-generated headers, subtitles, and content that resonate with your audience, saving you time while maintaining quality. Win-win. 🏆
Unsplash and Pexels Integration: Access a vast library of images and videos through Devi AI's Unsplash and Pexels integration. Find the perfect visuals for your website or landing page without opening multiple platforms. All-in-all.
Video Showcase: Share your products or services effectively by uploading videos that delight your audience's attention and communicate your message dynamically. Videos are a popular content format today. Use them to your business advantage everywhere.
Expert Support: Receive top-notch support from a team of AI specialists, guaranteeing assistance to navigate the platform effectively. Our 100% human attention and support are here for you.
Best for: Devi AI Website and Landing Page Creator is best for individuals and businesses of all backgrounds ✨
Devi AI Website and Landing Page Creator outperforms the classic approach to website design, converting it from a time-consuming procedure to a matter of minutes. Individuals and businesses of all scenes are welcome to create stunning and uncomplicated landing pages.
Who developed Devi AI Website and Landing Page Creator?
Devi AI Website Creator was developed by Devi AI, a US and Polish company funded by MIT CEE. Originally conceived as an AI social media manager, Devi also helps you create stunning landing pages effortlessly.
What is the price of Devi AI Website and Landing Page Creator?
Devi AI Website Creator's price begins at $0 monthly. You can have 1 free page for 100 years! We offer pricing transparency and full power. 😍
Free FOREVER Plan:
With the Free Plan, you receive a single website or landing page with mobile responsiveness and a custom domain. It includes AI design suggestions and unlimited hosting but lacks customer support. This plan suits those seeking a basic online presence without additional support. Start here.
Standard Plan ($29 per month):
The Standard Plan offers a more comprehensive package with five websites/landing pages, AI design suggestions, A/B testing capabilities, email capture, and software integration. It includes free images and videos, unlimited hosting, and email support, making it suitable for small to medium-sized businesses aiming for a robust online presence and marketing capabilities. Learn more here.
Pro Plan ($75 per month): The Pro Plan is a premium offering ideal for managing multiple businesses. It includes unlimited websites/landing pages for up to five businesses, advanced AI optimizations, in-depth A/B analytics, upcoming auto-translation, enhanced email capture, advanced email integration, premium hosting, unlimited custom domains, and dedicated chat/phone support. This plan is perfect for businesses seeking comprehensive web development, marketing, and customer support solutions. Learn more here.
Another AI website creator is Instapage which highlights personalized experiences for your campaigns. Instapage empowers you to prepare landing pages for each ad campaign to help with engagement and conversion rates.
What are the features of Instapage?
Instapage has different packages for businesses and individuals. Their Build package includes, amongst other attributes:
AI-generated headlines, paragraphs, and CTAs based on ad group and audience
Reusable Instablocks for streamlined scalability.
Near instant page loads with or without AMP for optimal performance.
A/B Testing to refine your strategies systematically
Real-Time Visual Collaboration for seamless teamwork
Invisible reCAPTCHA, bolstering security without user intrusion
Read more about Instapage landing builder on their page.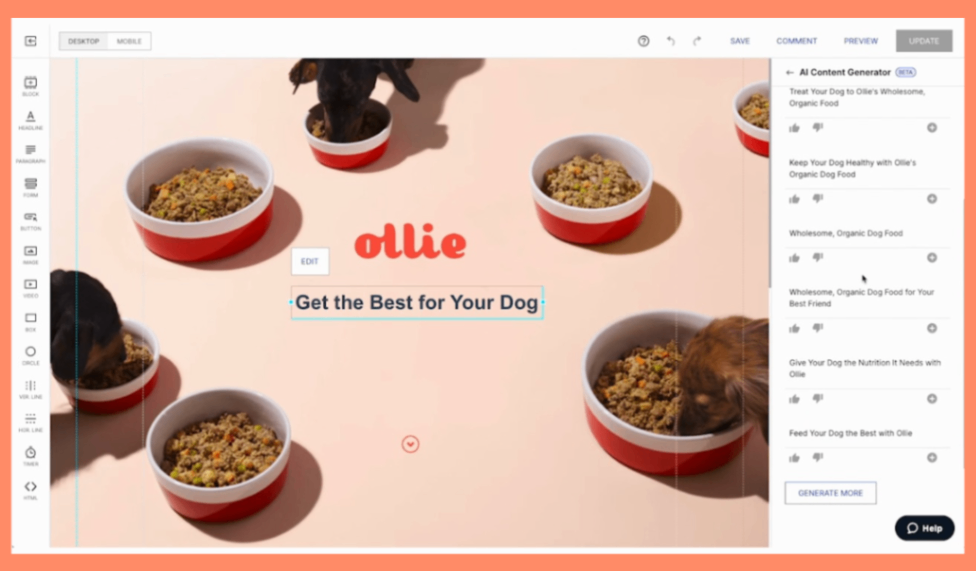 Instapage is best for teams running a higher budget on ad campaigns.
💰
Instapage crafts personalized landing pages to optimize ad expenses and deliver appropriate user experiences.
What is the price of Instapage?
Instapage has two plans: BUILD (with the features above) and CONVERT (customized). Their BUILD plan is $299 on the monthly payment plan.
Unbounce, a landing page builder, uses conversion data to create websites that resonate with your visitors. You can streamline campaign design with data-backed understandings and automation that permit you to get optimized marketing results. With Unbounce, you get two ways to build landing pages: Classic Builder and Smart Builder.
What are the features of Unbounce?
Unbounce's paid plans encompass a range of features that cater to diverse campaign needs:
Banners: Unlimited landing pages, popups, and sticky bars, ensuring your campaigns are as diverse and impactful as your ideas
AI-Generated Copy: Using AI copywriting assists in preparing influential content that resonates with your visitors
Conversion Optimization: Depending on the plan, you can get from 500 to 5,000 conversions to accommodate businesses of various sizes.
Visitor Scale: With plans covering visitor ranges from 20,000 to 1,000,000, Unbounce ensures your landing pages handle traffic without compromising performance.
Domain Flexibility: Plans offer from 1 to 25 domains for landing pages that reflect different aspects of your business.
You can learn more about Unbounce features on their site.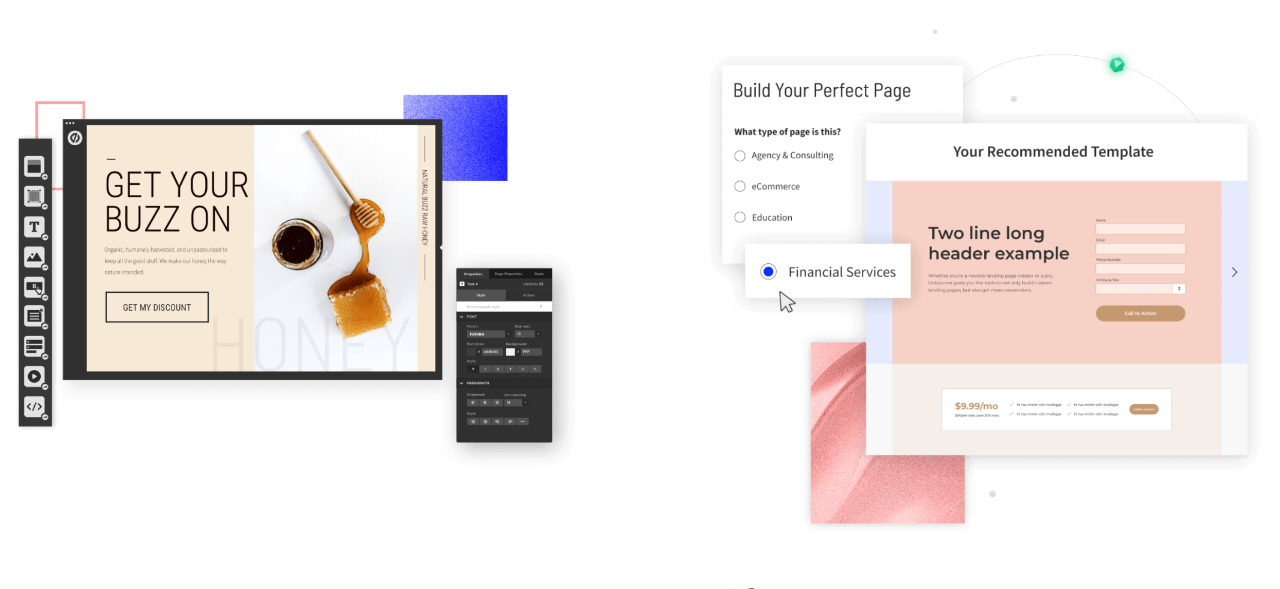 Unbounce is best for running an extensive data strategy. 👩🏻‍💻
Unbounce emphasis on data-backed landing page creation is best for campaigns focusing extensively on audience behaviors.
What is the price of Unbounce?
Unbounce offers four plans with flexible monthly and yearly options. If you are considering the mid-tier plan, your investment would be $145 per month.
Shogun is a no-code, visual page builder for e-commerce. It is an easy and fast way to create online stores. You do not need to pay for slow custom development for every store change because Shogun helps you dispatch a clever vision with drag and drop.
What are the features of Shogun?
Shogun, an e-commerce page builder, offers the following features in its plans. The Builder Plan one includes:
Published Pages: The Builder plan offers the creation of five pages, with the option to expand to five additional pages for $10 per month.
Template Variety: Access to over 70 templates for your online store.
AI Text Generator: AI-driven content creation for product descriptions and website copy.
Custom Snippets: Get your online store's functionality by incorporating custom snippets to resonate with your audience.
Version Control: Experiment with new ideas while having the option to revert to previous versions.
Mobile Responsive Design: Ensure your online store looks stunning across various devices.
Seamless Integrations: Integrate seamlessly with other tools and services through Shogun's integrations.
You can read more about Shogun on their page.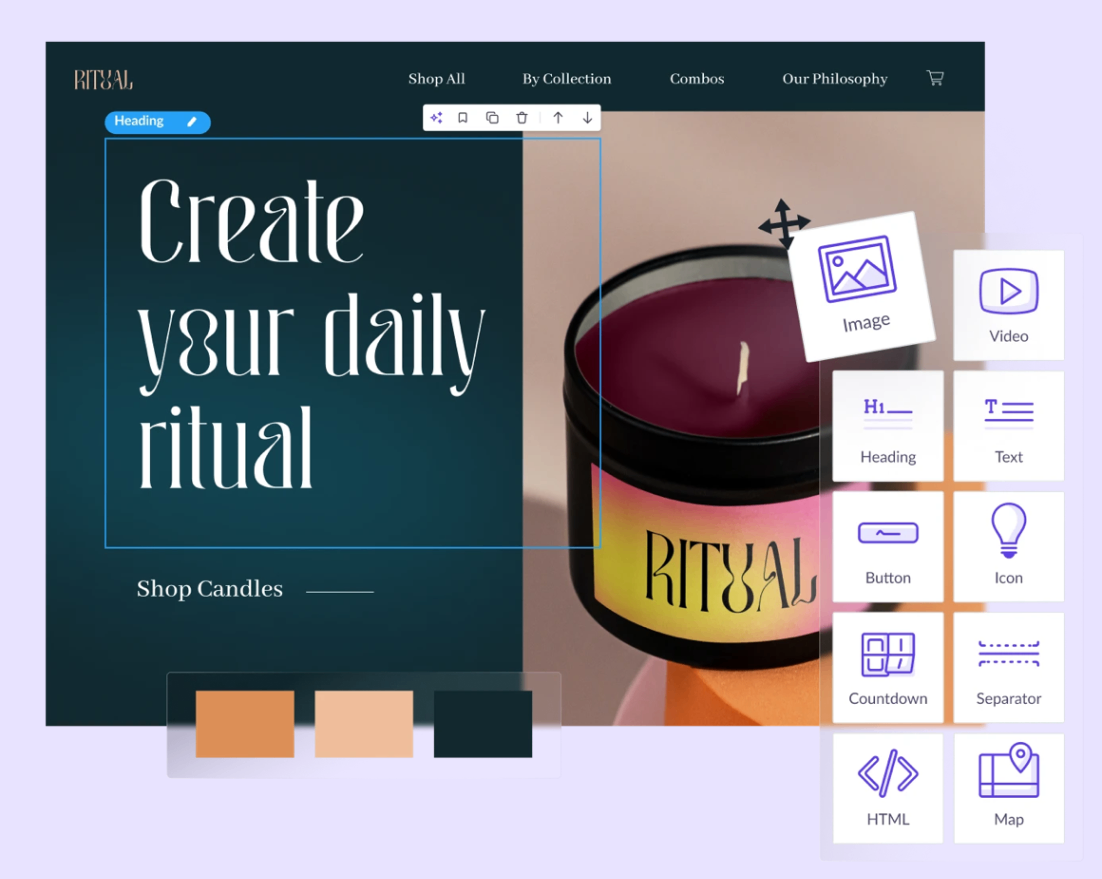 Shogun is best for big e-commerce sites. 👩🏻‍💻
Shogun's commitment to e-commerce excellence helps you create online stores that captivate, engage, and convert.
What is the price of Shogun?
Shogun plans range from $19 monthly to $499 on the advanced version. It also includes content syncing across stores, a Dedicated CSM, a builder for Shopify Hydrogen, and more.
Leadpages can assist with creating landing pages and websites. You do not need to use any coding or complicated tech. They have over 250 conversion-optimized templates for you to craft a custom look. You can also add forms and online payments that you can set on autopilot.
What are the features of Leadpages?
Leadpages' Standard Plan introduces features that enable the website creation process:
Drag and Drop Landing Page Builder: Design visually appealing pages without complex coding.
AI Engine Credits: Get your content with AI-generated headlines and images that resonate with your audience.
Conversion Tools: Optimize your website's ability to captivate visitors.
Conversion-Optimized Templates: 250 conversion-optimized templates
Unlimited Traffic and Leads: Accommodate varying levels of engagement and scale effortlessly.
One Custom Domain: Establish a unique online identity with one custom domain.
Integration Capabilities: Integrate with over 90 tools and services for an extensive strategy.
Visit the Leadpages website to read more.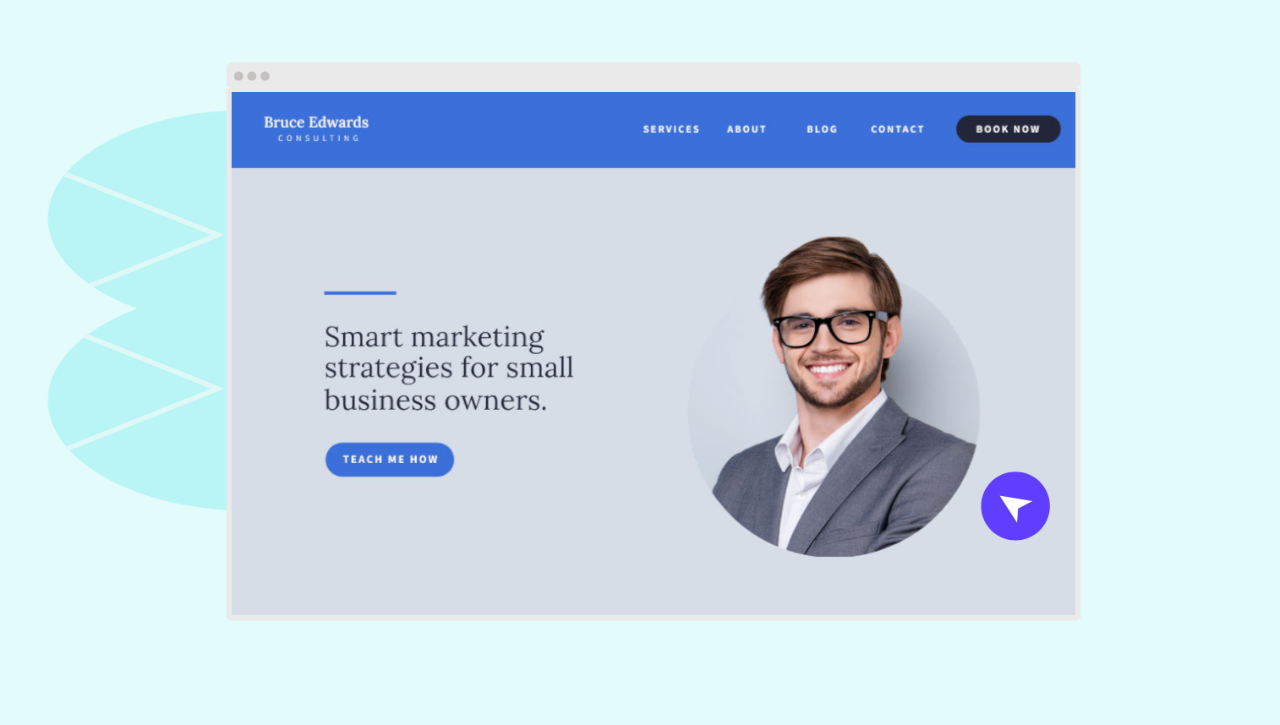 What is the price of Leadpages?
Their Standard plan starts at $49 per month if you buy the Monthly Plan and $37 if you buy the yearly offer.
Summary of Top 5 AI Website Creators
Brief Description: Powerful AI Website Creator that simplifies the process of building pages without code and without drag and drop.
Company: Devi AI, funded by MIT CEE.
User Interface: No Need for Code. No Need for Drag and Drop. Ultra Friendly and Fast UI. 40-60 Seconds for Website Creation.
Available Support: Documentation, Free Demos, Support Tickets, Live Chat. 100% Human Support
Platform Support: Google Chrome, Safari, Opera, Firefox
Pricing: Starts at $0.00 monthly for one page
Cost Plans: Monthly and yearly
Brief Description: Prepare landing pages for each audience and ad campaign to help with engagement and conversion rates.
User Interface: Drag and Drop, HTML, CSS, Website Blocks.
Available Support: Documentation, Support Tickets, and Free Demos available for some plans
Pricing: Starts at $299 monthly
Cost Plans: Monthly and yearly
Brief Description: Uses conversion data to create websites that resonate with your visitors
User Interface: Classic Builder and Smart Builder (UI for all expertise)
Available Support: Videos, Documents
Pricing: Starts at $99 monthly
Cost Plans: Monthly and yearly
Brief Description: No-code, visual page builder for e-commerce
User Interface: Customizing blocks
Available Support: Documents, ChatBot, Support Tickets
Pricing: Starts at $19 monthly
Cost Plans: Monthly
Brief Description: Creator for landing pages and websites
User Interface: Drag and drop builder
Available Support: Documents, Videos, Support Tickets
Pricing: Starts at $49 monthly
Cost Plans: Monthly and yearly
Whether you are an aspiring entrepreneur, a creative professional, or an individual looking to share your passions, these platforms offer a canvas for your digital aspirations. Consider your unique needs, preferences, and goals when exploring these platforms, and embrace AI for your site creation. You can empower your design, create, and captivate in the infinite spectrum of AI tools.
Remember that the intersection of human ingenuity and AI innovation is a realm of possibilities waiting for you to use its magic and forge your digital estate.
With Devi AI, website and landing page creation evolves from a time-consuming task to a seamless, efficient process, empowering you to capture your audience's attention and drive conversions.