Landing pages can help convert more leads into customers because of the valuable information they display about your business. In 2023, artificial intelligence took over the generation of landing pages, making the process easy and affordable. AI Landing Pages have revolutionized how businesses interact with their online audience to drive higher conversion rates and deliver unique user experiences😍.
In this blog, there is a list of the best free and paid AI Landing Page Generators. Firstly, we will share how artificial intelligence changes the typical landing page generators that take time, money, and effort. You will then find five free and paid tools that help you generate landing pages with AI cost-effectively and powerfully.
Before we proceed, what is an AI Landing Page?
AI Landing Page is short for "Artificial Intelligence landing page," and it is a significant advancement in digital marketing. Why? These pages are not your ordinary and boring static web pages that your users and customers always see, but rather intelligent and data-driven assets that adapt and personalize content to each visitor. AI Landing Page Generators can build pages in 10 seconds with page copy, graphic assets, testimonials, gallery, and everything!
Why is this important?
The role of AI landing pages in digital marketing is ground-breaking. They are the new dynamic entry points to your website or campaign and reach each visitor in their original ways. Moreover, they save you time and money.
The top 5 AI Landing Page Generators in 2023 and 2024
Here are some of the criteria to consider when evaluating AI Landing Page Generators:
⭐️ Ease of Use
The user-friendliness of any tool is a required criterion. What if it is super cool, but you have no idea how to use it? It should offer a straightforward interface, enabling users with diverse technical expertise to create AI landing pages without wasting too much time to find out how.
⭐️ Features and Capabilities
An effective tool should provide all features to support AI personalization, A/B testing, integration with other marketing tools, analytics, and more. It should take care of each of your business-specific needs.
⭐️ Personalization Options
The degree of personalization the tool allows is essential. AI landing pages are fantastic at providing tailored content, so the tool should support dynamic content generation and personalization controls.
⭐️ Integration with Other Tools
Your chosen tool should let you integrate with other instruments in your marketing magic stack. For example, are you used to Google Analytics? How great to only add another site to your account, right?
⭐️ Analytics and Reporting
Analytics and reporting features are vital for tracking the performance of your AI Landing Pages. The tool should provide actionable insights and facilitate data-driven decision-making because this is one of the main distinctions between traditional websites and landing page builders.
⭐️ Cost
Cost considerations are integral, especially when discussing free tools. While the tool should be affordable, especially for a startup or small business, you must weigh its capabilities against any limitations for paid features. The tool's pricing model should align with your budget and long-term goals. :)
P.S. Devi AI Landing Pages has a FREE landing page for you and includes 100 years of hosting .🥳 Start building your AI Landing Page for free here.
The Ultimate List of Top 5 AI Landing Page Generators in 2024
Each tool has its unique strengths and offerings, and our exploration will show how they address the specific needs of marketers and businesses. Let's get started.
Devi AI Landing Page Builder is a landing page generator that can create a page in 10 seconds without coding or boring drag and drop. All you have to do is answer two questions: your business name and its description. Test it here.
Features and capabilities:
Free hosting for 100 years included: Devi AI Landing Page Builder includes free hosting for 100 years, so you do not have to worry about maintaining your website or paying extra fees.
AI Design and AI Website Copy: In 10 seconds, Devi AI Landing Page Builder will generate a beautiful design that includes the copy: Hero Section, About, Pricing, What's Included, Gallery, and more.
Free and Custom Domains: Devi AI Landing Page Builder includes domain options in your first free landing page and all the packages. That is an expense that you can also save with this tool.
Analytics and Insights: This ground-breaking tool gives landing page analytics and insights. You can also connect with Google Analytics if you prefer this other tool, but it is just an option.
SEO Features: Devi AI Landing Page Builder uses artificial intelligence to optimize your page for search engines. This way, potential clients will discover your page super smoothly on Google. You can always edit to personalize or modify the SEO settings.
A/B Testing: Devi AI Landing Page builder has a plan starting at $14 per month. AI automatically generates your B version to save you time.
Free Image and Video Library: One of the best things about this tool is that it helps you forget about unnecessary things like searching for a picture on Unsplash, saving it, and then uploading it to your page. It includes a free image and video library!
Custom forms: The same $14-a-month plan helps you gather lead information on customary newsletter or email capture forms. Everything is in one place!
Benefits of Devi AI Landing Page Builder:
✅ Includes a FREE first landing page for all users and free hosting for 100 years. AI Landing Pages can be available to anyone thanks to Devi AI Landing Page Builder.
✅ You do not have to do any boring drag and drop. AI will create everything for you from the start.
✅ Includes hosting and domain in the first free landing page and all the packages. You do not have to consider other expenses for your business.
✅ A/B Testing is automatically generated by AI on the Lite Plan. You do not need to worry about creating a similar page from scratch and wasting time. Just edit tiny details if you would like to run your ads or campaigns and see your results.
✅ Devi AI focuses on lead generation, so its AI Landing Pages tool follows the same goal and can help to increase the conversion rate.
✅ Can you believe you can get a landing page in 10 seconds?
Start building your free landing page here and increase those leads🥳.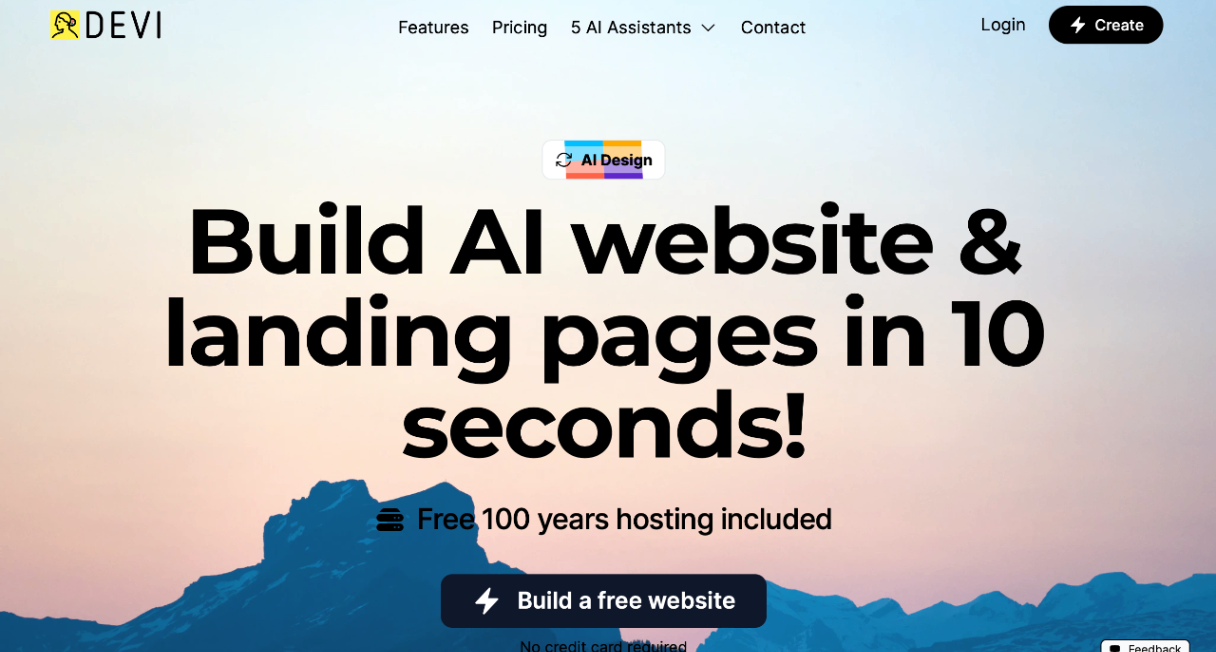 ChatGPT
You can use the AI of ChatGPT to assist you in your landing page creation. It would take you unnecessary time, but it would give you more control. Remember that you would need to use it side-by-side with a traditional website hosting platform.
Features and capabilities:
AI text generation: ChatGPT can generate realistic and engaging text formats of text content and landing page jargon. Just remember to edit results because it can produce promotional language and scare your visitors.
Code generation: ChatGPT can generate different kinds of code, like Python, Java, C++, etc. It can also translate code from one language to another. It can help you craft the code for your traditional website.
Translation: ChatGPT can translate languages accurately and fluently, so you can create multiple landing pages in whatever language you need for your business.
Benefits of using Chat-GPT:
✅ You can pair its use with a traditional website generation platform to save time on your code and copy.
Limitations:
Not a replacement for human creativity: While ChatGPT can be a helpful tool for generating text, it is not a replacement for human creativity. You might need to edit its outcome if you want quality content.
You must manually do a lot in the landing page creation: If you opt for ChatGPT, you must do everything else manually and use your valuable time longer than necessary.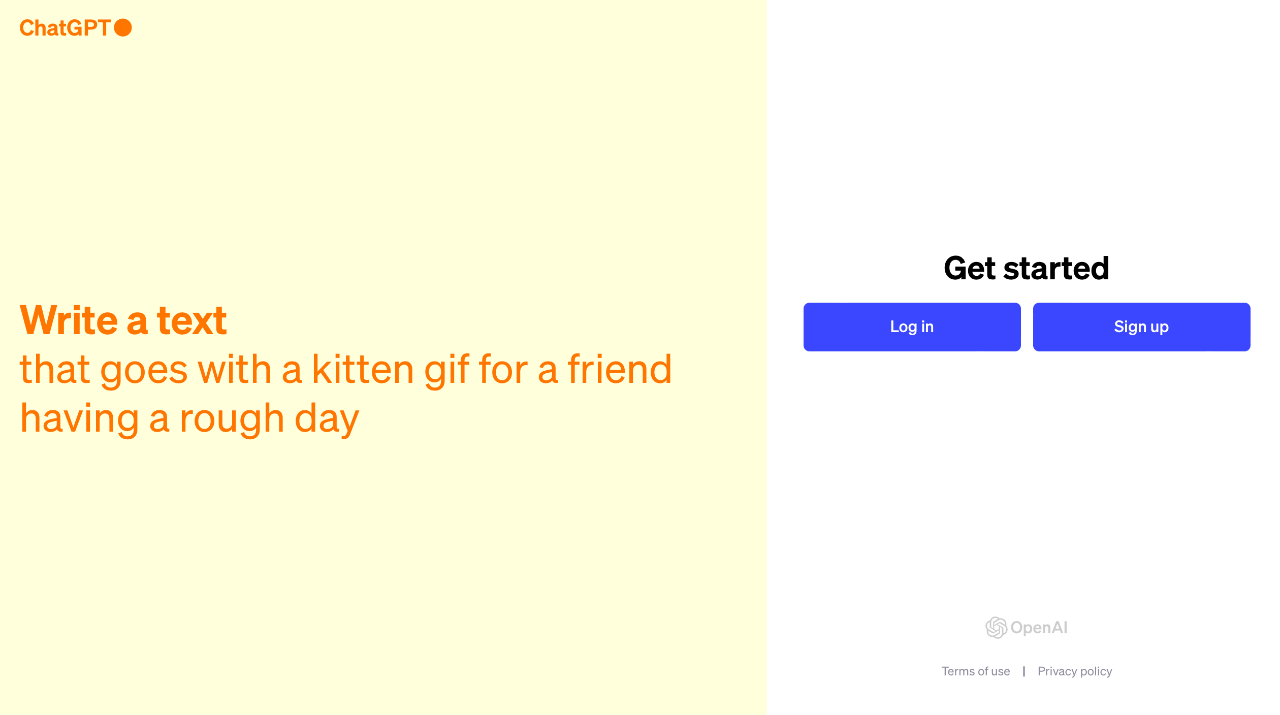 Landingfolio
Landingfolio is a landing page tool that provides users with several templates and resources to create high-converting landing pages.
Features and capabilities:
Landing page templates: Landingfolio offers a library of pre-designed and customizable landing page templates to fit the needs of any business.
AI components: Landingfolio includes several AI-powered components that can help to improve the conversion rate of landing pages. These components include things like heatmaps, A/B testing, and personalized messaging.
Analytics and reporting: Landingfolio provides users with detailed analytics and reporting so you can track the performance of your landing pages.
Benefits of using Landingfolio:
✅ Improved landing page design: Landingfolio's team of designers can help users create landing pages that are both visually appealing and effective. Super aesthetic.
Limitations:
Landingfolio is a paid service that only includes templates.
The number of landing page templates is limited.
The AI-powered components are still under development.
The pricing for ONLY templates starts at $49 for three months. It does not include hosting, SEO, website copy, or AI reports.
Sitekick
Sitekick can be another alternative to generating landing pages for your business using AI.
Features and capabilities:
AI-powered copywriting: Sitekick uses artificial intelligence to generate engaging and persuasive copy for your landing pages.
Library of images: Sitekick has high-quality images that you can use on your landing pages.
Customization: You can customize Sitekick's landing pages to match your brand. It includes changing the colors, fonts, and layout. All other tools on this page also allow customization.
Benefits of using Sitekick:
Reduced time to market: Sitekick can help you create landing pages quickly and easily. You can get your landing pages up and running sooner.
Limitations:
Not a replacement for human copywriting: While Sitekick's AI-powered copywriting can be helpful, it is not a replacement for human copywriting. You might still need to invest in human copywriting services.
Can be expensive: Sitekick's pricing can be costly for some businesses. If you are on a tight budget, you may want to consider a different tool.
The pricing starts roughly at $49 a month. It is not easy to find transparent pricing on its page.
Instapage
Instapage is a landing page platform that helps businesses create landing pages without coding knowledge.
Features and capabilities:
Drag-and-drop landing page builder: Instapage's drag-and-drop builder makes it easy to create professional-looking landing pages.
Personalization and A/B testing: Instapage allows you to personalize your landing pages and A/B test elements of your pages to see what converts best.
Analytics: Instapage provides heatmaps to help you understand how visitors interact with your landing pages.
Collaboration tools: Instapage includes collaboration tools to add other team members to your landing page creation.
AI content generation: Instapage's AI-powered content generation feature can help you create landing page content.
Benefits of using Instapage:
Reduced time to market: Instapage's drag-and-drop builder and pre-built templates can help you create landing pages quickly and easily.
Limitations:
Pricing: Instapage's pricing can be costly for some businesses, especially startups and small businesses.
Instapage's pricing starts at $199 per month. However, the price can increase depending on the number of landing pages you need to create and the features you want to use.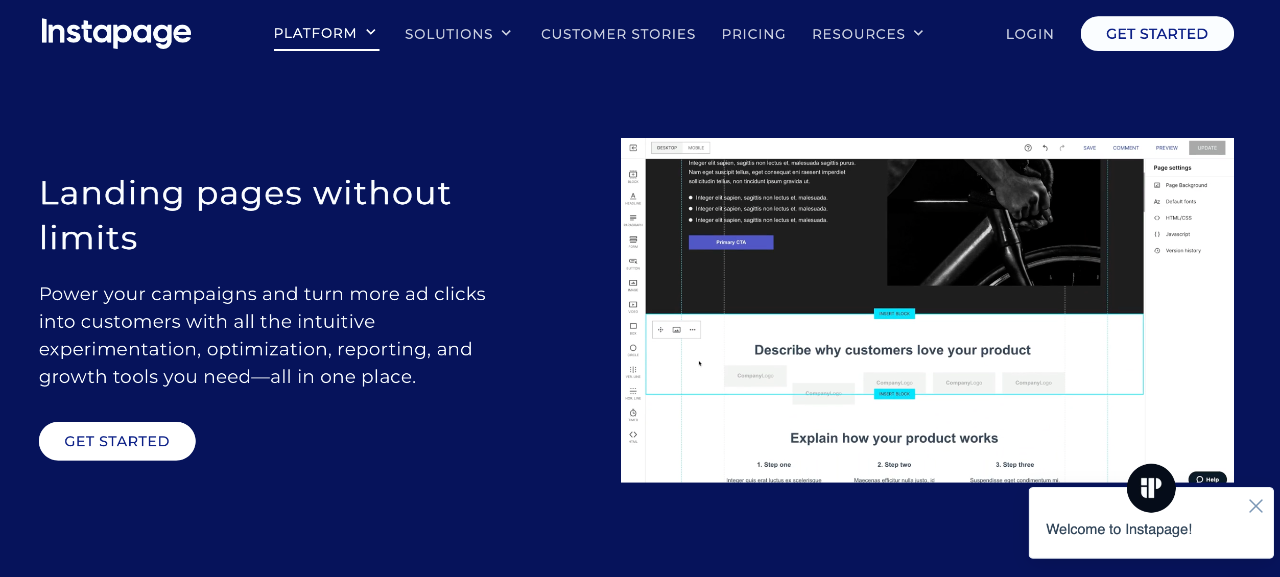 How to choose the best AI Landing Page Generator
Selecting the right tool for creating AI landing pages is critical for your business. You need the best of the best. Here are some factors that you should consider when choosing an AI Landing Page Generator:
Efficiency and Effectiveness: The right AI Landing Page Generator will help you generate landing pages in seconds without too much time. A good tool must simplify tasks, automate personalization, and provide insights through analytics. The efficiency ensures that your landing pages are effortless to manage and optimize.
Budget Considerations: Some AI landing page tools have substantial costs, while others offer cost-effective or free-of-charge solutions. Your choice impacts your marketing budget and your ability to maximize ROI.
TIP: Devi AI Landing Page Generator has one 100% FREE Landing Page for you. Start generating your landing page here for free and publish it for free!
Why use AI to generate landing pages
Landing pages are the showroom where potential customers might come and say WOW! with your product or offer on display. They are the digital places where visitors go from casual browsers to potential customers. Therefore, every element on the page matters, and AI is a game-changer because it adapts landing pages with content based on user preferences.
Using AI Landing Pages can significantly boost conversion rates. From e-commerce platforms offering tailored product recommendations to news websites suggesting articles of interest, AI transforms landing pages into engaging, interactive, and conversion-focused support.
These are the 4 top benefits of using AI Landing Pages:
1. Speed: AI can quickly create personalized experiences for your landing pages. It tailors content, offers, and recommendations to suit the individual, making the landing page more engaging. For example, Devi AI Landing Page Builder can do a landing page for your business in 10 seconds.
2. A/B Testing: AI facilitates the A/B testing process by automating variations and analyzing results. You do not have to do repetitive tasks. You can focus on the fun (if you want) or your business. AI will give you results so you can show the most converting page to everybody!
3. Efficiency: AI Landing Page Generators do not need a lot of maintenance, so you do not have to worry about managing your page. Focus on strategy and creative aspects of landing page optimization!
4. Conversion Rate Improvement: With personalized content, dynamic variations, and predictive analytics, AI improves conversion rates for your business. You will ultimately lead to more successful digital marketing campaigns. Let's go!
We hope that this entry has been of use to you. Devi AI has a mission to build 5 AI tools for all startups and small businesses to thrive in 2024. Why not learn more about Devi AI leads now?