Devi AI is an AI lead generation tool and AI social media monitoring tool. It saves you and your team valuable time and marketing efforts by enhancing your AI sales strategy.
Keep reading to find out more about the potential uses of Devi in your AI lead generation and AI social media marketing.
Benefits of using Devi AI in your marketing and AI sales strategy
Maximize your marketing and sales efforts with Devi, an advanced AI lead generation tool that offers a variety of benefits to enhance your strategy, including:
Saving 1-2 hours on monitoring social media platforms, including Facebook groups, Reddit, Twitter, LinkedIn, and the web for leads and brand mentions
Responding quickly to potential customers with a ChatGPT integration
Automating follow-ups with previously contacted leads to avoid losing them: Take AI customer service to the next level
Improving brand sentiment by staying present in relevant conversations in digital social communities
Directly messaging leads on Facebook groups to offer sales or customer support
Educating potential customers about the solutions your product or service offers
Gathering real-time customer and product data and insights in your industry niche
Generating content with AI with the new AI Content Generator
The possibilities are endless with Devi AI. This AI tool is constantly evolving to offer even more value to your business.
Sign up for Devi AI today and see the results for yourself.
Devi AI as an AI lead generation tool
How can I generate leads automatically?
Devi AI helps you generate high-intent leads automatically as it monitors five social media platforms, including Facebook groups, to find you ready-to-buy customers and not only brand mentions. This way, you can sit and wait for Devi AI to alert you.
How can I target a high-intent audience?
Devi AI identifies and helps you target high-intent leads in Facebook groups and subreddits, assisting you in building relationships and establishing trust with potential customers. With our keyword alerts, you can participate in relevant discussions, provide valuable insights, and position yourself as an expert in your field - all while monitoring brand mentions and identifying high-intent leads.
How can I get high-quality leads on social media?
AI social media monitoring might not be enough to get high-quality leads: this is why Devi AI has a system that alerts you of new leads ready to turn into customers, shortening the marketing funnel from interest to purchase. This way, you can save time and marketing efforts while increasing your revenue.
What marketing channels are the most effective for high-quality leads?
We are doing business in a postdigital and multiplatform world. It is crucial to tap into the potential of online communities within community social media platforms like Facebook groups and Reddit.
Your potential customers might want a second point of view before purchasing what they are looking for. Moreover, 84% of consumers trust online reviews as much as a personal recommendation from a friend or family member. Therefore, online social communities are a market opportunity for you to find high-quality leads and buyers.
What is intent-driven marketing?
Intent-based marketing is a method of reaching customers at the right time with the right message by using data insights into their goals, habits, and behavior.
Intent-based marketing increases your chances of converting leads into customers and enables your business to make better use of your resources by focusing on the most promising leads, rather than trying to reach everyone with a general message.
Devi AI focuses on generating high-intent leads for you and optimizes your marketing strategy.
How can I generate leads online for free?
You can generate free high-intent leads online with AI social monitoring tools and automated lead tools such as Devi AI.
Start a free trial today or book a demo.
What is AI lead generation?
AI Lead Generation involves using Artificial Intelligence technology to generate and find leads online.
Lead generation in digital marketing involves identifying potential customers by using various digital channels and techniques to create a pool of leads that can be converted into paying customers.
Devi AI finds you customers who are ready to buy, avoiding the process of converting them into paying clients.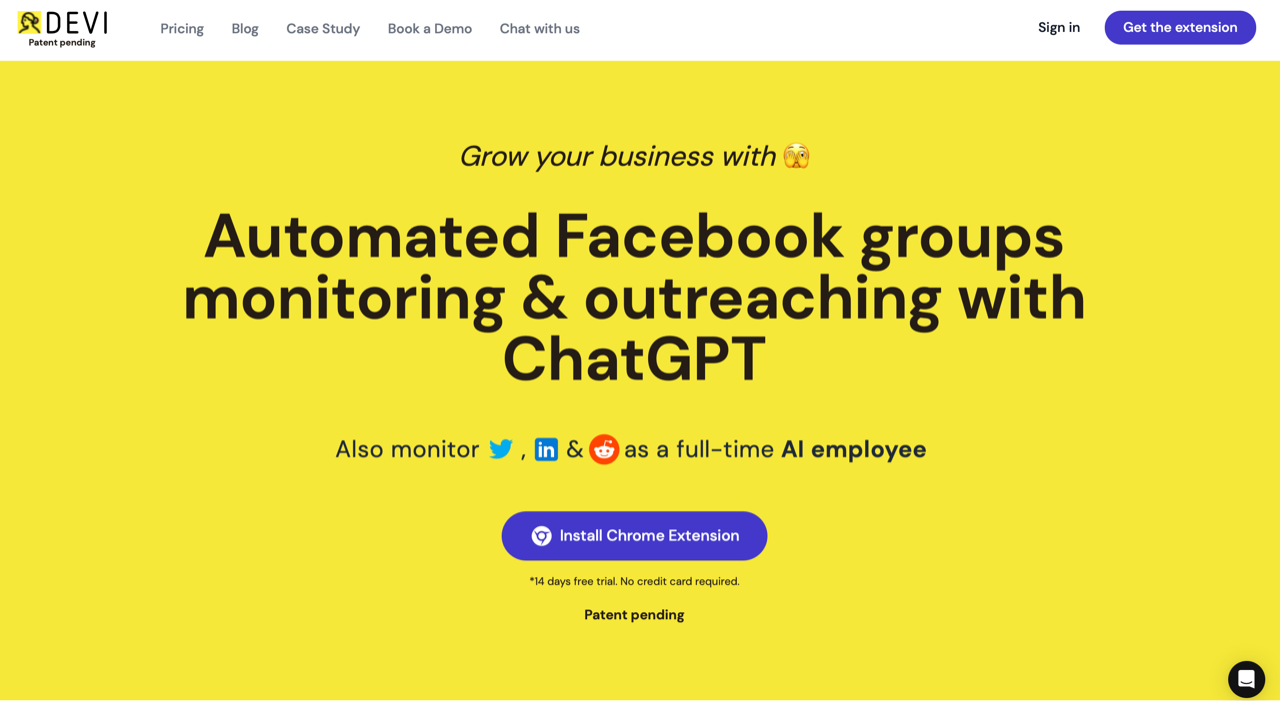 Devi AI as an AI social media monitoring tool
What is a social media monitoring tool?
A social media monitoring tool, such as Devi AI, is a powerful software that enables you to track and analyze all mentions of your brand and relevant keywords on various platforms, including Facebook, Reddit, Twitter, and LinkedIn. You can find a review of the tool made by AI Product Reviews.
Also, Devi AI has introduced an innovative feature in the social media monitoring tool industry by including monitoring Facebook groups.
How can I optimize my AI social media monitoring with AI tools?
Revolutionize your social media monitoring strategy with Devi AI.
Whether you are a solopreneur, small business, or large team, this Google extension streamlines the process by automatically monitoring social media, sending alerts, and even allowing you to respond to potential customers using advanced AI technology for customer service and content creation.
This way, you can easily capture high-intent leads and take your AI social media monitoring tool to a revenue level instead of just gathering brand mentions.
Why should I use an AI social media monitoring tool?
Using an AI social media monitoring tool such as Devi AI can help you save time and resources by automatically alerting potential high-intent leads, monitoring five social media platforms, and allowing you to respond to clients using ChatGPT technology.
Stop using generic marketing messages and welcome personalized and effective campaigns that speak directly to your target audience's needs and interests. ;)