Marketing a brand on Facebook groups can bring a great amount of awareness and leads, usually, people asking for product suggestions in groups are high-intent potential clients who are ready to buy, but it can be a time-consuming task to browse every group's posts to find the relevant posts to engage with. This is why tools to monitor Facebook groups have become so important for marketers, solopreneurs, and more.
Here we will compare three popular tools that are used for Facebook group monitoring, i.e. the ability to quickly see and catch when group members have shared content about you or which fits your business niche.
Devi is a Facebook marketing assistant that helps you automatically monitor any public or private groups you've joined from your account even if you're not an admin. Moreover, it shows an interactive dashboard with the trends of your selected keywords.
Main features:
Devi allows you to add as many keywords as you require for a full monitoring experience.
Detect buy-intent straightforward
Devi has a section that shows you posts and comments that include buying intent so that you filter leads that are ready to complete the purchase.
If you're monitoring Facebook posts as a means of looking after your brand's reputation, Devi assists you with it by showing you positive, neutral, and negative sentiments on posts.
You can check the posts that are the most popular in the groups you're part of so that you can get inspiration and create engaging content.
You can bookmark posts to reply to the OP later, keep further track of the thread or add to your clients' reports.
Detailed mention Dashboard
Devi shows you an interactive dashboard that shows the ups and downs in the trends of your selected keywords and mentions so that you know your presence in your groups.
Devi automatically scans the groups each hour to maintain results updated. You can also manually run it more often if required.
Devi sends you browser alerts when they have finished an automatic scan so that you know how many new relevant posts have been found.
Comment, and message.
NEW: CHAT-GPT INTEGRATION FOR AI CUSTOMER SERVICE OR SUPPORT MESSAGES IN ONE CLICK.
What's included in the basic package:
Unlimited keywords
24*7 automated tracking
20 groups monitoring
Sentiment Analysis
Buyer-Intent Detection
Trending posts
Save 2-hours a day
Messages to the Original Poster
Pricing: $49.90 for unlimited keywords and 20 groups either public or private.

GroupsTracker is another Facebook monitoring tool that permits you to follow activity on public and private groups by joining them from bots accounts.
Main Features:
Bots join groups on your behalf
GroupsTracker does not need you to be part of any group as bots join them on your behalf. The thumbs up is that you are not required to link your Facebook account, but the downside to it is that if they don't get accepted or get kicked out, you won't be able to continue your monitoring.
Receive email or SMS Alerts
You do not need to be on the application all the time as you can get an SMS or email notification when a relevant keyword comes up in a group.
As with Devi, you can select unlimited keywords per day.
You can** favorite posts that were filtered with your selected keywords.
What's included in the basic package:
Any public Facebook group
6 Notifications per day
Unlimited Keywords
10 posts per day
50 comments per day
Pricing: $5 per group per month, i.e. $50 per 10 groups.

Groouply also monitors groups' posts, comments, and links, and it notifies you of relevant conversations. They also integrate with your favorite communication tools such as Slack.
Main Features:
Groouply permits you to add any wanted keywords to monitor groups. You can also visit the group from there and read its description.
Understand social sentiment
You can know if your filtered posts have a positive or negative reaction as Groouply contains social sentiment detector.
Identify frequently used words
Groouply also contains a cloud of the most used words in the group you have under monitoring so that you can get familiar with the community's language and create content to engage the audience on your brand.
Integration with communication tools e.g Slack
Recently, Groouply also added integrations with tools such as Slack so that not only you but also your team can know about the status of the Facebook group of your interest.
What's included in the basic package:
Unlimited keywords
Unlimited SMS or email notifications
Hourly notifications
Integrations
Pricing: $25 per group monthly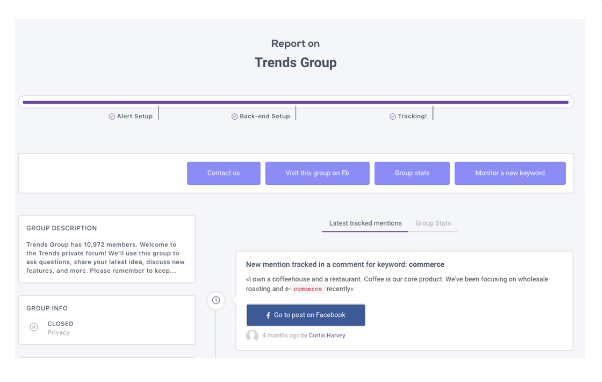 Basically, there's a tool for every business need. You can quickly compare the three tools we've shared above in this infographic: