LinkedIn is the world's largest professional networking platform: a social media site for professionals to connect, share ideas, and find jobs. It is a valuable resource for businesses to build their brand, attract top talent, and stay up-to-date on industry trends.
Monitoring LinkedIn for keywords is one of the most key actions businesses can do on the network. Why? LinkedIn has over 930 million members in over 200 countries and territories. You can generate hundreds of leads and brand awareness by keeping the social media platform in your marketing strategy. Manual keyword monitoring can be time-consuming and inefficient. Automating your LinkedIn monitoring allows you to track conversations about their brand, products, and services and identify new opportunities.
In this article, we explore which tool to monitor LinkedIn for keywords is the best in 2023. We discuss their features, benefits, and pricing so you can choose the right tool for your needs.
We will also provide tips for using keyword monitoring tools to get the most out of LinkedIn. By the end of this article, you will understand better how to use keyword monitoring to improve your business's presence on LinkedIn.
Devi is an AI Social Media Manager that supports your business by automating four indispensable social media marketing actions. Monitor social media platforms for keywords, outreach leads, create branded content, and schedule on social media platforms, including LinkedIn.
Devi AI allows you to monitor LinkedIn for keywords and other social media platforms such as Twitter, Reddit, and Facebook communities. You can outreach to social media leads easily, and explain your business value to people already looking for a product like yours.
The best part? You can track unlimited keywords, recognize sentiment, and set up alerts to receive your mentions!
There is more! You can also identify Twitter influencers to add to your marketing campaigns, use a powerful AI integration to generate a week's worth of social media content, and share media outlets' news for brand authority.
You can test the Devi AI tool with a free trial and afterward keep an affordable subscription for all businesses or individuals looking to gain value from social media.
What are the main features of Devi AI, a LinkedIn keyword-monitoring AI tool?
These are Devi AI's powerful features. You can add the AI social media assistant as a Chrome extension.
Monitor LinkedIn for keywords and other social media platforms: Automate leads monitoring with AI in LinkedIn and Facebook groups, Reddit and Twitter to save time and focus on other revenue-key business actions.
Ease LinkedIn leads outreach with AI: With one click, you can share personalized comments or replies created by ChatGPT with your business details. Save time and close more deals!
Create content with AI for LinkedIn: You can generate a week's worth of content, including graphics and captions, in different formats: quote, inspiration, did you know, fun fact, and more!
Schedule Content on LinkedIn and other Social Media: Choose when to share your AI-generated content in all your social media profiles to create a presence for your brand. You can edit it as much as you want or schedule it in 1-click.
Monitor Websites for Brands Mentions: Devi AI can help you monitor 3000+ top websites for mentions of your brand.
Monitor and Share News with AI: Get, schedule, and share the latest news in your industry so that you can establish yourself as a Twitter authority. All social media managers know how essential news content is for Twitter! Save time on this step in your monthly content crafting 😉
What is in the basic package of Devi, an AI LinkedIn monitoring tool?
Monitor LinkedIn and other social media platforms with AI, including:
LinkedIn global posts
Twitter and Reddit posts
Private and public Facebook groups
Global newspapers and blogs
Buyer-intent detection
Brand outreach monitoring
Detect positive or negative sentiment
Receive alerts in your email as often as you want: every 2, 4, or 8 hours, daily or weekly.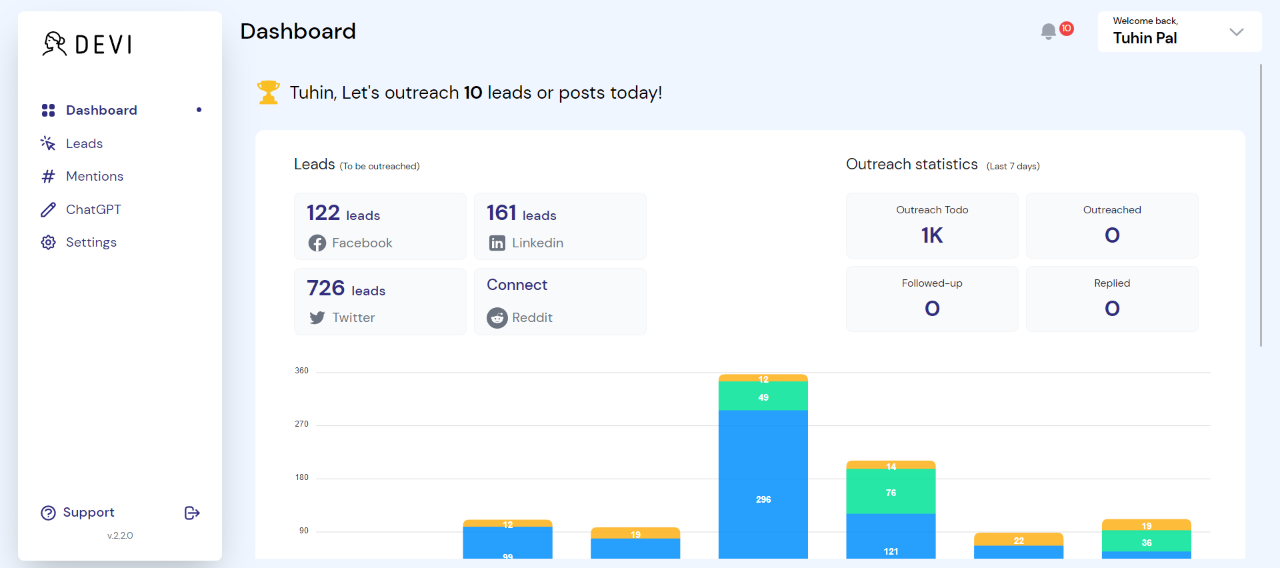 AI Leads Outreach Feature to save time closing more deals
Use one click to reply to leads using Devi AI's ChatGPT integration to save time. 250 ChatGPT API calls included.
Personalize AI replies with your business information
Generate brand presence on LinkedIn and other social media platforms with AI-generated content
You can edit or directly schedule your AI-generated content on all social media profiles.
Forget about copy-pasting! Schedule AI-generated content directly
Save time and resources on graphic design: Devi AI creates discussion-generating
Receive image suggestions automatically from Unsplash
Build authority on LinkedIn by sharing news with AI
Monitor 3000+ news websites and media outlets
Rewrite AI News and schedule them in a few clicks to create authority and engagement on Twitter and other social media platforms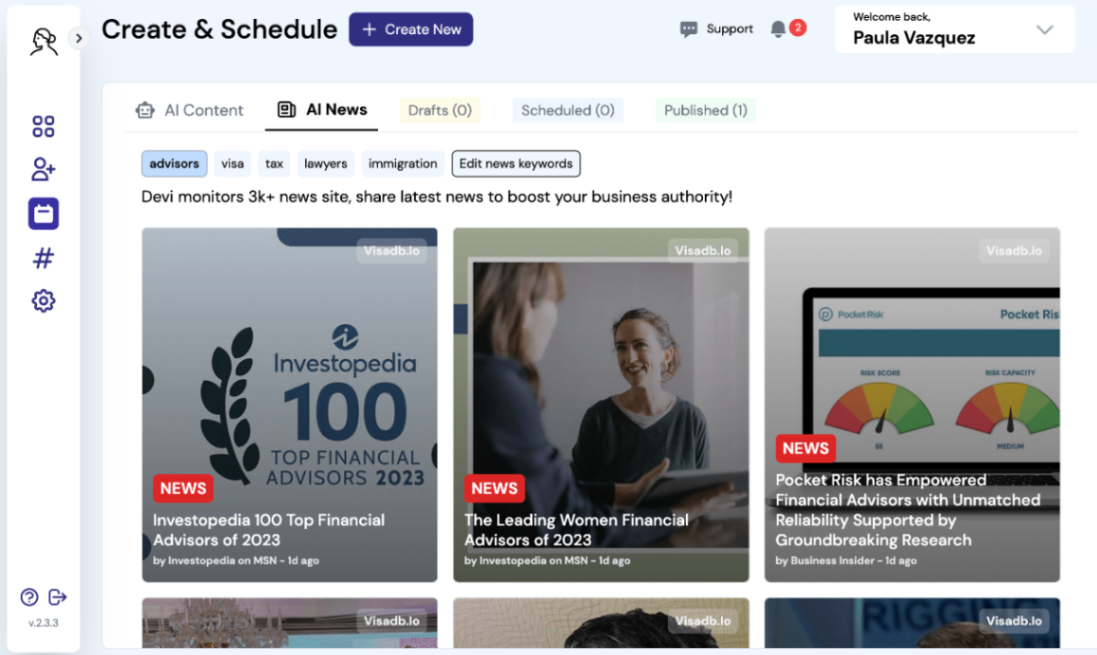 $49.90 for unlimited keywords on Reddit, LinkedIn, Twitter, and 20 Facebook groups either public or private.
With SentiOne, you can monitor LinkedIn and other social media platforms. You get real-time insights from your brand across platforms so you can respond to crises or make data-informed decisions.
What are the main features of SentiOne for monitoring LinkedIn for brand mentions?
SentiOne's focus is on monitoring and does not offer other features such as AI content creation.
Do social listening in real-time to respond to any potential reputation crisis in your social media platforms
Get your brand's mentions on LinkedIn, Facebook, Twitter and Reddit, blogs, and other places online.
Discover statistics about your customers and the main hours of activity
Get alerts from your brand's mentions
For $300 monthly, you can activate a Team Plan and access 1 language, 5 users, unlimited keywords, real-time monitoring, historical data of 12 months, unlimited results, and more. You can read more information about SentiOne's plans here.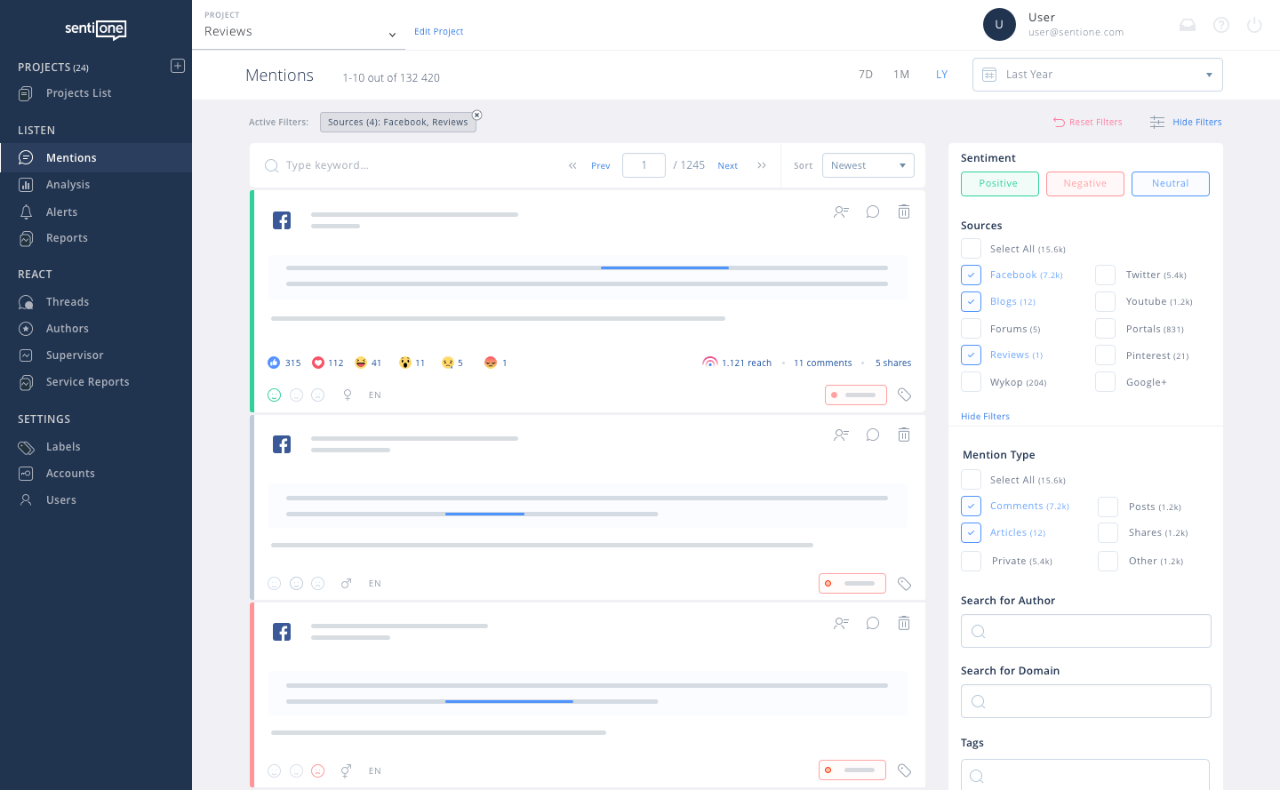 Mentionlytics can also help you with your social media monitoring to prevent doing it manually. You can track and analyze your personal or company's mentions, reputation, and performance on LinkedIn. It can help you generate better engagement and strategic business decisions.
What are the main features of Mentionlytics for monitoring LinkedIn for mentions?
With the basic package of Mentionlytics, you can achieve the following:
Monitor web sources: news, blogs, or any news
Social media networks such as LinkedIn, Twitter, Facebook, Reddit, and other platforms
Mentions from your Facebook and Google reviews
If you want to get competitor monitoring, you would need to upgrade to the Essential plan for $139 monthly.
You can get engagement metrics and reach your dashboard
You can filter your mentions per your necessity and get notifications
You can monitor monthly mentions with a limit of 5,000, 12-hour updates, 10 social profiles, and 5 users for $69 per month.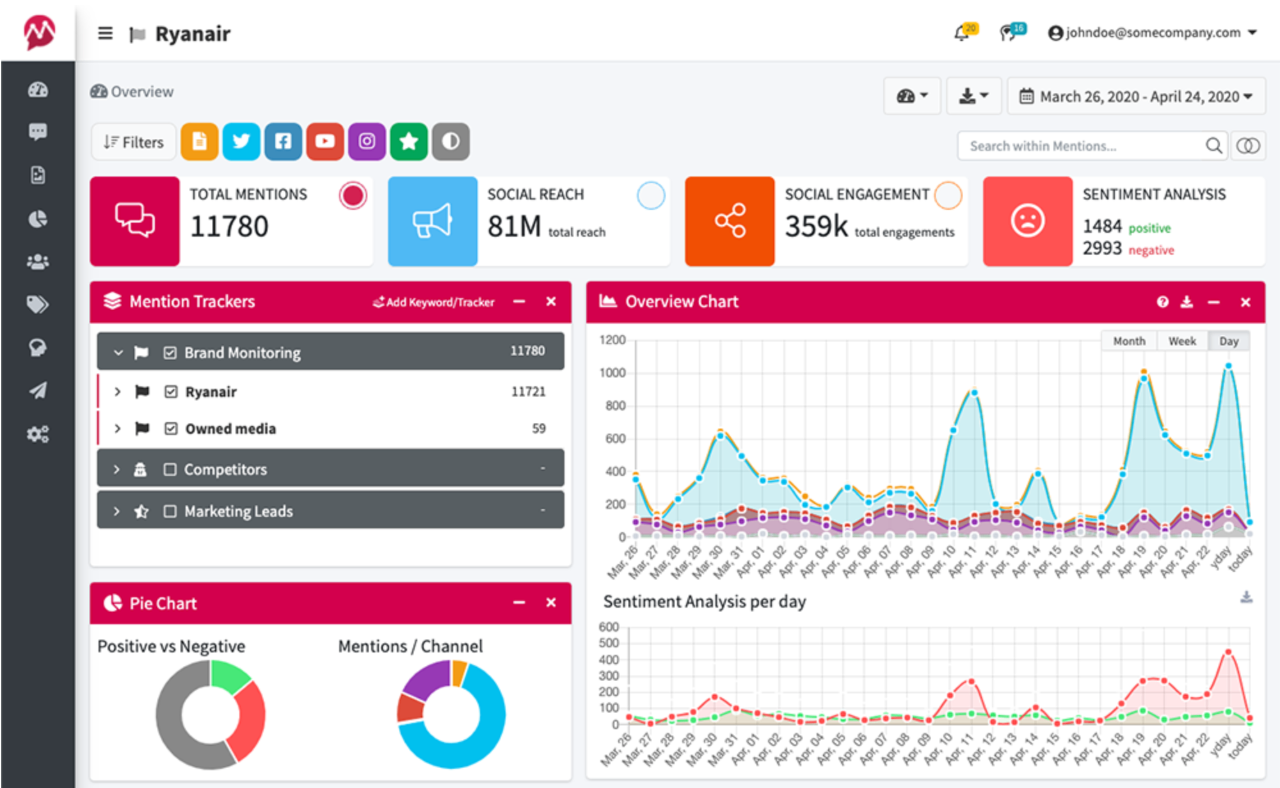 We hope this article was a refreshing list of options to monitor keywords on LinkedIn and much more.