Picture this! You have your delicious coffee or tea ready and open your laptop to create the best content to drive engagement to your business social media account. You see an overwhelming list of ideas that would take you hours. You do not know where to start. What if I told you there is a tool with the superpower to help you create posts in seconds? That is why, today, we share more about AI Social Media Content Generators.
AI Social Media Content Generators in 2023
We know that content is king for a great social media strategy. In 2023, the demand for outstanding content that drives engagement has increased as trends and accounts appear. Thankfully, the new wave of AI has brought tools and tricks to help community managers, small business owners, and content creators stay afloat and on top of the game.
AI Social Media Tools have redefined the art of social media marketing. The fusion of AI and social media has given rise to innovations such as AI social media automation, AI social media management, and AI social media content generators—features that collectively shape the narrative of our online relations.
The fast-paced nature of social platforms demands a continuous stream of engaging posts that resonate with diverse audiences. Using AI can be a tool to improve your content strategy if used correctly. Crafting high-quality posts can be challenging even after using the new tech tools. As more AI tools appear, the more mechanical and boring the content we consume seems to become, right?
Here is where Devi appears to help you create valuable posts and share the trending news to position yourself as a relevant authority in your industry. Win-win for your business and your audience. Try it for free today here.
Benefits of Using AI Social Media Content Generators
AI Social Media Content Generators use the powers of artificial intelligence to ease the burdens of content creation. AI algorithms can generate content your audiences love while sticking to established brand personas, communication goals, or your chosen topics. What other benefits are there for AI Social Media Content Generators?
Time Savings on Content Creation
Time is a precious item in the world of social media marketing. AI Social Media Post Generators empower marketers and creators to free up valuable hours spent brainstorming and drafting content. You can use this time for strategic planning, audience engagement, and other high-value tasks that promote brand growth. We want to see you shine!
Improved Content Consistency
We rarely see discussions around the importance of content consistency. A consistent brand voice and style across social media platforms is essential for your brand identity. How would you feel if you saw your best friend dressed in different fashion eras every day? Unsettled, right? That is how people can feel when they see your brand without a defined identity. AI-generated content can help you stick to topics and formats to ensure your messaging remains coherent and aligned with your brand's essence.
Enhanced Engagement for your Social Media Accounts
The era of followers is way behind. Engagement is the key now, and viewers can find your content even without following you. AI-generated content keeps engagement as a goal: questions and topics that will take your action to interact with your account. The personalized approach increases the likelihood of likes, shares, and meaningful interactions.
Improved Creativity for the Social Media Team
Rather than replacing human creativity, AI social media post generators act as potentializers. They handle repetitive and time-consuming aspects of content creation, so you focus on strategic thinking. This fusion of human ingenuity and AI efficiency leads to innovation and impact.
Amplified Outreach and Lead Generation
What is the use of social media accounts for businesses if they do not bring leads? AI Social Media Post Generators simplify reaching out to your audience. It is time to nurture relationships and generate more leads.
AI social media post generators offer a unique proposition—a symbiotic relationship between technology and creativity. It is time to explore how Devi AI Content Generator reshapes how we approach AI social media marketing and content creation.
When innovation meets content creation amazing things happen. Devi AI helps you create outstanding assets for your social media accounts such as Instagram, Reddit, Facebook pages, Facebook groups, LinkedIn, and Twitter 'X'.
Devi AI is more than just a tool—the extension is an ally for individuals, marketers, and businesses looking to use AI to elevate their social media presence. You can leave behind content fatigue and the demands for fresh, engaging posts with Devi AI. It will become your reliable companion for impactful social media contact.
Dynamic Content Variability
Nobody wants to consume automated content that offers no value. Devi AI's capabilities exceed what automated content seems like and offer evergreen content thanks to its monitoring capabilities. Devi generates a collection of content that transits diverse styles, tones, and formats.
Contextual Relevancy for Your Social Media Posts
Gone are the days of generic content that merely scratches the surface. Devi AI crafts posts that resonate with your specific audience segments. By analyzing trending topics and industry nuances, Devi AI guarantees your content remains timely, relevant, and engaging. Get conversations started with Devi AI content.
Time Efficiency Without Compromise
Devi AI understands that time is a precious resource. Its streamlined process enables you to swiftly create content without compromising on quality. Devi takes the tedious task of researching and drafting to allocate your time to fostering meaningful relations with your audience.
criticizes simplicity without sacrificing the depth of its capabilities.
Devi AI is at the forefront of innovation for AI Social Media Post Generators: never sacrificing quality with its automation power. Its commitment to dynamic content creation, contextual relevance, and user empowerment are game-changing.
How to use Devi AI to create posts for social media
So, before getting defeated by the overwhelming task of content creation, you decide to install Devi AI. Voilá! A world of possibilities is right in front of you.
Check out these tips to create posts for social media using AI
Take Advantage of the Smooth and Fun Interface
Learning AI tools can be complex and even more time-consuming than doing it yourself. Devi AI is not like the others. The interface helps you create content in seconds and even helps you schedule it in-app. There is no need to open multiple windows or tabs. Your experience as a user will be smooth and fun. So, beware! Do not get addicted to generating content with Devi.
The user interface is designed to offer an intuitive and organized workspace. The dashboard presents a clean layout, making every feature easily accessible. Remember that the 100% human team is there for you. We are an AI company that believes in REAL human connection.
AI Content is Ready for You to Schedule or Share!
Devi AI's content creation prowess knows no bounds. You can craft many types of content: Did you know, Fun Fact, Promotional, Tips, or else. You can click on 'Settings' to change the content you want to be created for you or update your business logo.

What is next? With an easy click, you will have a post ready to share.
We know how important it might be for you to run some OPTIONAL changes, so you can change the picture or fix your captions. Modify any details you want. In seconds, it will be ready to schedule or share!
Forget Canva: AI-Generated Images for Social Media
Devi AI takes content creation beyond text and dives into the visual realm. It can take hours to craft the perfect graphic asset for that post in Canva, right? Devi AI generates branded images with your logo and business name. The process is remarkably efficient, requiring one to zero clicks to create these striking visuals that reinforce your brand identity.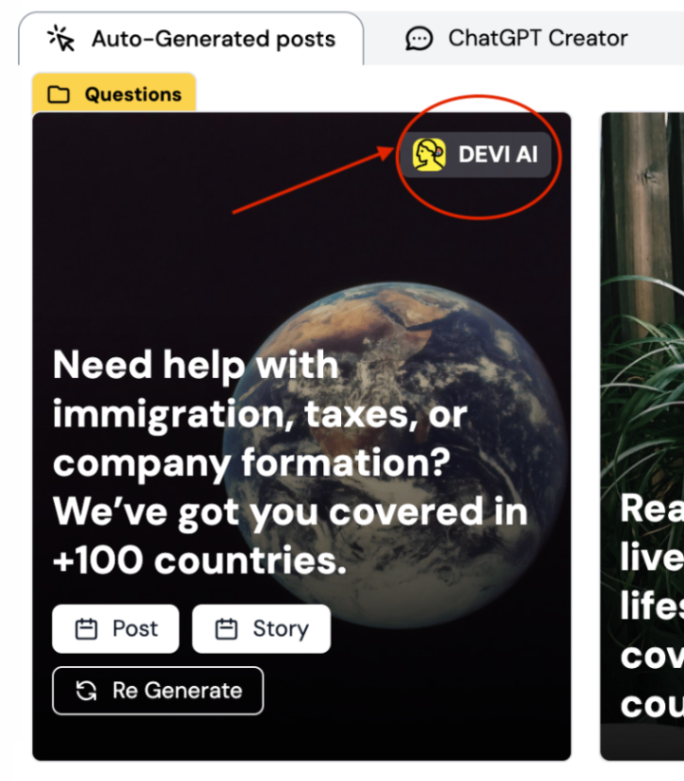 Devi AI's integrated scheduling capabilities empower you to seamlessly schedule these generated images without leaving the platform. This streamlined approach offers a level of efficiency found nowhere else.
Share News with Beautiful Visuals in 1 Click
Devi AI transforms building authority into a single-click task. Choose the news pieces you want to monitor, and Devi AI springs into action, generating captivating visuals that accompany your news updates. This instant process adds a layer of professionalism and authority to your content sharing, positioning your brand as a reputable source of information in your niche.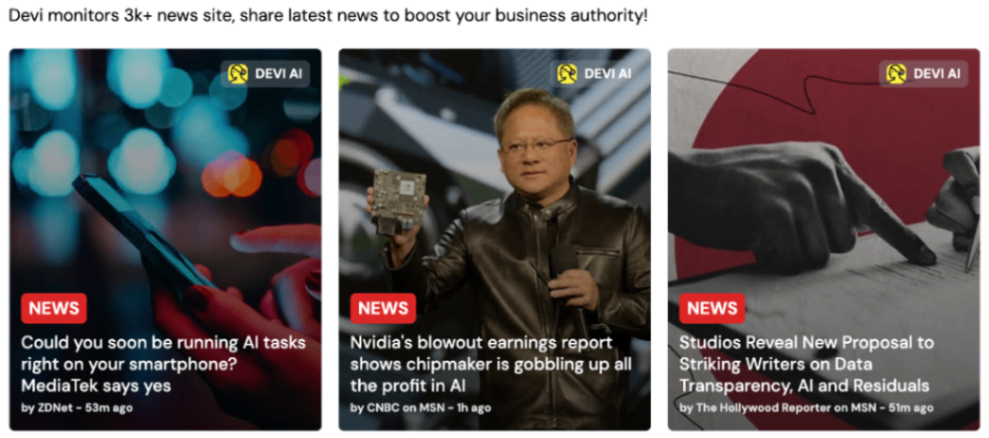 An AI Content Generation Tool that Finds Leads
Social media accounts must do more than merely exist—they should drive leads. AI Social Media Post Generators simplify reaching out to your audience, nurturing relationships, and generating potential leads. Devi AI, however, is ALSO a tool that monitors your social media accounts to find high-intent leads. What does it mean? People who are already looking to buy your offer!
Conclusions
Rather than eclipsing human creativity, AI Social Media Post Generators strengthen it. Tools like Devi AI empower human creators to focus on strategic thinking and innovation by automating repetitive and time-consuming content creation tasks.
We invite you to test it yourself and see how the fusion of AI and content creation has opened doors to new realms of engagement and innovation. Devi AI stands as an example of the potential of AI in reshaping the landscape of social media marketing and content creation. Devi AI is a formidable ally for those who seek to create remarkable content and foster meaningful connections in the dynamic landscape of social media.
Devi AI is where technology fuels creativity, so you do not have to face the blank page anymore. Use Devi AI Content Generator for free today.